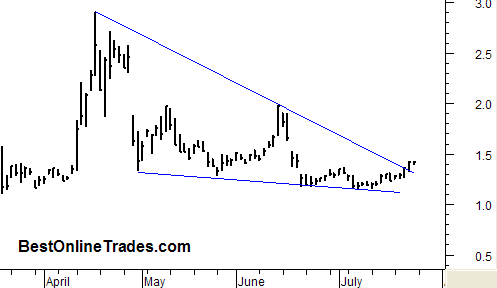 BestOnlineTrades.com has spotted ETRADE corp ETFC as a possible upside trade this coming week, possible as soon as Monday morning (this morning).
Sometimes it amazes me how certain patterns and setups come to my attention.  It just so happens that I had ETFC stored on my computer's archives of charts and had not looked at it in while.  But I can tell you that when I did look at it I was pleased what I saw.
I have found that finding new setups is not always a matter of just running a technical scan or looking at a top 10 list.  Yes, there are scores of filters and pattern analyzers out there, but nothing, I tell you nothing replaces the simple act of manually scanning through a bunch of charts with your EYES and using your mind as the filter.
That is what I did this weekend and so far I am pleased with what I see in ETFC.
ETFC appears to have a somewhat large pattern formation that resembles a large falling wedge.  Within the past few days ETFC has elected to peek its head above water and slightly pierce the down trendline that makes up the top portion of the wedge.  The volume on the very recent move was very robust.  To me it suggests ETFC may want to get a run going soon, especially with the broad market wind at its back.
Looking at the chart, I see a possible upside here of the top portion of the wedge.
BestOnlineTrades is going to initiate ETFC on the recommended list Monday in the AM with a hopeful activation price of between 1.50 and 1.42, and then a fairly tight stop of 1.38 right under the recent swing low of Friday's trading.
I like the size of this pattern and I like the fact that this most recent move is the third touch of the resistance line which many times in my experience is indicative and probable of a real break through.
There will be one follow up on Etrade much later in the day depending on how or if ETFC was successfully added to the BestOnlineTrades Recommended list.