ETFC – Etrade Financial continues to show good signs of a new uptrend based on price structure and trading volume.  They recently reported another loss on July 22nd but CEO indicates that the recent money they raised will be enough to pull them out of their loan loss crisis.  In true market forward looking fashion, the market starts to mark ETFC up well in advance of any full resolution to their loan crisis.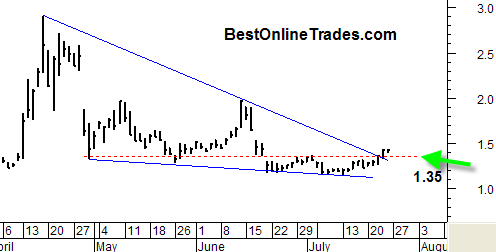 BestOnlineTrades added ETFC to the recommended list this morning very near the open at 1.47.  The stop is set at 1.38 but in this case that may need some fine tuning depending on if or how much of a pullback ETFC initiates this week or next.
The ideal buy price for ETFC was at 1.35.  But here at BestOnlineTrades we were a couple days late in spotting ETFC as a possible candidate.  If a 1.35 entry was taken than it would have allowed ideal stop placement just under that support area as depicted by the red dashed line.
However, since the entry was this morning at 1.47 ideal stop placement is going to be a bit more tricky.  A stop under support in the 1.30 to 1.35 range would trigger close to a 10% loss which would certainly not be ideal.  So the announced stop is set at 1.34, however this may require quick judgment calls (adjustment) as appropriate.

The short interest on ETFC is extremely high. As shown from shortsqueeze.com current readings are near the 35% of float level which is very large.  This could provide fuel for this rally and may trigger quite a short squeeze going forward perhaps even eventually to the top of the falling wedge.  Rapid price moves to tops or bottom of where wedge formations started is not that uncommon.

One last thing to say about ETFC.  The afterhours shows that ETFC is down about 7% from Monday's close.  Most of the trades leading right up into the final minute were near 1.55, so I can't say whether that last trade was a market maker rebalancing or an actual trade.  Perhaps it was an attempt to paint the after hours by some heavily invested shorts? I don't know.  Just speculating here on this point.
| | | | | | | | |
| --- | --- | --- | --- | --- | --- | --- | --- |
| BestOnlineTrades Recommended List | Symbol | Date of Rec. | Entry | Stop | Buy Stop | Exit | Result |
|   | UNG | 7/22/09 | 13.88 | 12.90 |   |   | –7.06% |
| | FITB | 7/22/09 | 7.60 |   |   | 8.47 | 11.45% |
| | CEMJQ | 7/22/09 | .275 |   |   | .32 | 16.36% |
|   | PIR | 7/24/09 | 2.30 | 2.14 | 2.30 |   | * |
|   | ETFC | 7/27/09 | 1.47 | 1.34 |   |   | * |
| *pending |   |   |   |   |   |   |   |