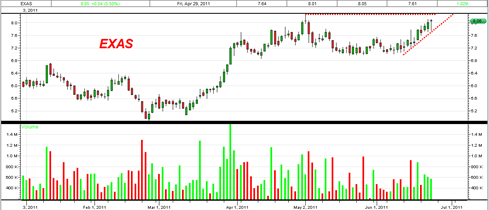 EXAS or Exact Sciences is another biotech that looks like it wants to bust north soon.  Again at the risk sounding too repetitive, the biotechs are marching along higher despite the recent destruction in the major indices.
This is a positive sign for the group and can allow them to be leaders when the market trend turns back up again.
Look for EXAS to make an attack on 8.28 with a possible first end target of 9.00
The volume on the recent 5 day advance is not exactly blockbuster, in fact it is weak so there is some more caution associated with EXAS since I like to see a huge volume build up into a breakout. But so far this is not to be seen with EXAS.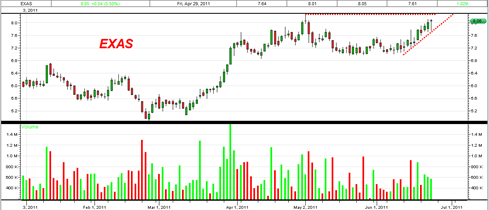 When the going gets tough, the tough get going.. and the tough ones right now are the biotechs…