The FAS ETF may be getting ready for a big move.  This is an extremely volatile ETF to say the least and has a habit of gapping all over the place depending on what the sentiment is by morning open.
Before getting a good read on the FAS I like to see what the SPY ETF is doing.  In my opinion right now the general structure of the broad market still looks constructive.  We have been trading sideways for about a couple of months. Not only is this good cause but so far we have not given back that much ground which is an even better sign. That is not to say we can't go into a deeper correction, I am certainly open to that, but as of right now things look more constructive to me and we are in a tight trading range.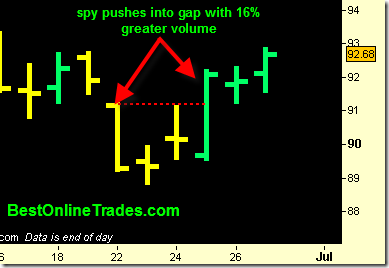 Zooming in on the action of the SPY you can see from the two red arrows I have drawn that the SPY has tested the gap of about a week ago and this gap, instead of being heavy resistance on a down trending SPY, served as a breakthrough point.  Volume expanded by about 16% into that gap and to me is a short term bullish sign and opens the door to the SPY testing the top of the recent 2 month range.
This is a holiday week so we will have to see what type of effect that has on overall volume for this week. Perhaps the true story will not really be told until early next week.  The market just seems to have a habit of taking its own sweet time.  So lets let it do what it wants and give us a verdict by next week. If we are lucky then we will get a verdict this week.
Speaking of verdicts, the FAS ETF is also looking somewhat constructive to me right now. The FAS 3x Financial Bull Shares, similar to the SPY has been consolidating in about a 2 month range.  The consolidation in the in the FAS resembles more of a falling wedge than a rectangle formation.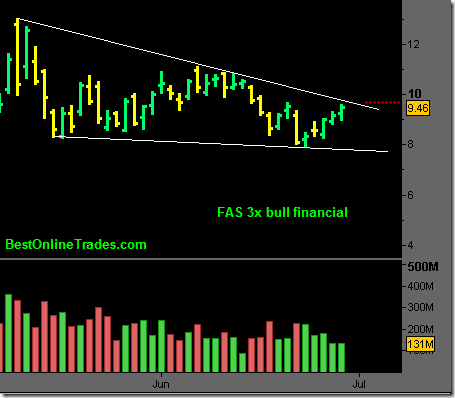 So my bias right now near term is bullish. I have no idea if we are going to be able to get enough momentum this week to make a move out of this pattern on the FAS.
A breakout could be activated by a price move to and above 9.72 on the FAS.  This could correlate with bulilsh action the SPY as mentioned above.
The FAS may bump its head on the top down trend line of the falling wedge and consolidate for a day or two before deciding what it wants to do.  If we do not hold firm price support up in that pocket then it opens the door to a move back down to the bottom of the falling wedge near the 8 level.
This FAS is really tough to grab by the hands. It is like a slimy little fish you just pulled into your fishing boat and then tried to grab with your wet hands. That's how this baby trades.  And the most deviant thing I can think of FAS doing this week is gapping up above the downtrend and then just running. Certainly possible. But for now we will have to see if a breakout can get activated starting from the 9.72 level.
Peace. I'm out.