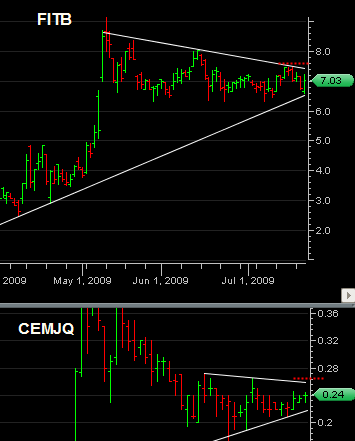 I am initiating FITB and CEMJQ on the BestOnlineTrades recommended list with buy stops.  That means that they are not fully recommended yet but are positioning themselves possibly for some good upward movement.
FITB is a mid cap bank that has a fairly clean chart and has been price trending upwards for quite some time now.  It has that run away rally during early May but since that time (about 2 months) it has consolidated in a slow downward slanting wedge of sorts.
Now it finds itself kissing the up trendline as of today and so far holding ground.
So I am initiating a buy stop at 7.60 for FITB on the premise that once it is able to get above down trend resistance we could start to see a new up trend.
CEMJQ or Chemtura is the Chemicals company with large international exposure that could see benefits from a collapsing dollar price.  That one has also had a nice run along and uptrend line and done a more violent pullback back to up trendline support.  I am initiating a buy stop on CEMJQ at .2750
So we will have to see how these two shake out.  The hardest part about following markets is the waiting part.  Sometimes I wish there was a little button we could push to find out the next 10 days price data RIGHT NOW?!  But no, patience is the order of the day.  And so we will be patient.
| | | | | | |
| --- | --- | --- | --- | --- | --- |
| BestOnlineTrades Recommended List | Symbol | Date of Rec. | Entry | Stop | Buy Stop |
|   | UNG | 7/22/09 | 13.88 | 12.90 |   |
| | FITB* | 7/22/09 |   |   | 7.60 |
| | CEMJQ* | 7/22/09 |   |   | .275 |
|   |   |   |   |   |   |
| *pending |   |   |   |   |   |