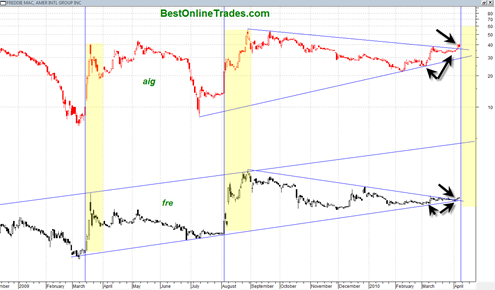 Freddie Mac (FRE) currently price at 1.34 may move higher in sympathy with AIG American International Group, Inc. soon.  FRE continues to be dogged by the housing depression and the government involvement or lack thereof.
However the economy is on the mend and there are some bright spots appear that may lift the shares of Freddie Mac  FRE soon. 
If you put the share prices of AIG and FRE right on top of each other you will see a general tendency towards symmetry on some of the big moves each stock has made over the last year.  There appears to be a slight lag effect in the movement of FRE relative to AIG.
Significantly, AIG has just recently broken out north from a very long term downward sloping resistance line and what also appears to be a very large triangle formation.  Similarly Freddie Mac  FRE has also just done the same thing although it has not really had a breakout type move out of this triangle yet.  To accomplish that it will need to trade and move over the 1.38 level which it may do early next week.
A move above 1.38 could be a big move because of the cause implications of the larger triangle and because it has recently double bottomed off of the longer term uptrendline channel.  It looks like it is trying to get a running jump start to be able to trade over 1.38.  It really needs to get above the 1.38 soon because this is the third attempt to do so (usually 3rd attempts are successful).  If it fails then it could move back down to the bottom of the range again near 1.25.
The bollinger bands are tight again on FRE and the stock could start a volatility expansion soon.
The price action on FRE since August of 2009 appears to have some tendency towards a very large head and shoulders bottoming formation that is downward slanted.  This pattern could also help the stock into a breakout type move.
FRE is definitely capable of very large moves, but it has spent most of the time drifting and floating sideways to slightly upwards in very small increments.
I would say that FRE is a very speculative type play, but if it can bust loose above 1.38 then it could open the door to 1.71 as a possible first stop.
In the chart below the longer term channel picture says that FRE could get all the way eventually back up into the 5 range assuming it oscillates back to the very top of this large trading channel.