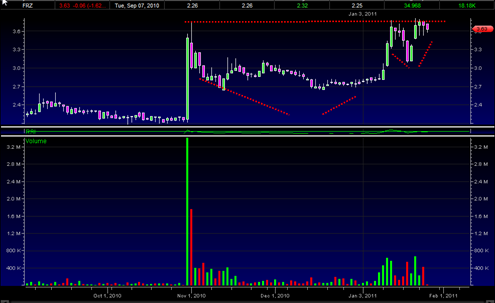 FRZ Reddy Ice Holdings, Inc is possibly setting up for a breakout from a cup and handle formation.  This company is in the portable ice business and it would seem odd that such a business could thrive during 0 degree Fahrenheit temperatures the other day.  I suspect a good portion of their business is located in the warmer regions of the United States.
They are due for earnings around mid February and the price chart appears to have a nice overall pattern.  On October 29, 2010 the price had a massive move on the lifting of DOJ investigation.  Then the stock consolidated slightly down and most recently shot up again towards the resistance line marked by the October 29, surge.
I like the action of the last 10 to 15 trading days for a few reasons.  One reason is that the action seems to resemble the handle portion of a cup and handle pattern.  The second reason is the look of the price candlesticks of recent days.  There may be a 'three white soldiers' candle stick pattern showing the stock has moved to a strong uptrend phase.  The big wide candles show that strong accumulation is occurring.
As long as we can hold support at 3.50 in the days ahead I think FRZ has a shot at a northward breakout.  There does remain a somewhat large opening gap of about 5 days ago which is unknown at this time whether or not it will be filled.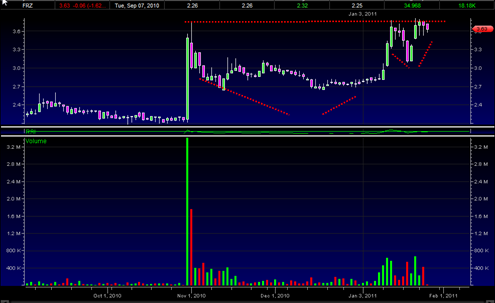 Yahoo Finance shows FRZ earnings call on February 14, 2011 which is only 13 full trading days from today.  So it could very well be that FRZ wants to run into earnings date and then 'sell the news' as seems all too common these days.