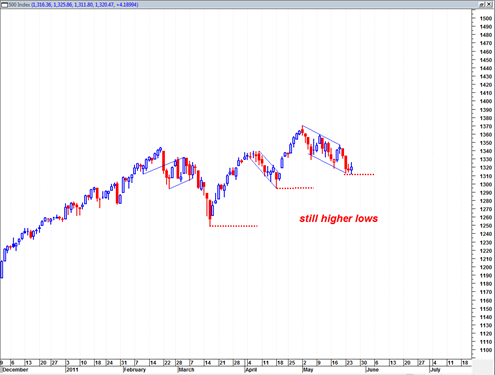 Today's action in the stock market was really pathetic for those looking for more downside price action.  Actually it was somewhat neutral.  The last two candlestick bars including today simply formed an expanding triangle.
The volume on the SPY ETF was weak as well.  We really need to break below 1311 during the next two trading days to get the bear scenario cooking.  Otherwise I might have to switch back to a long signal by the end of this week.
This decline is still quite cumbersome and orderly.  Where is the beef?  There really is not much at this point.
There is also still a pattern of higher highs and higher lows since the mid March 2011 swing low, but if we do not break down by the end of this week then this 'higher lows' situation is still at least some type of potential platform for the market to be considered in an uptrend.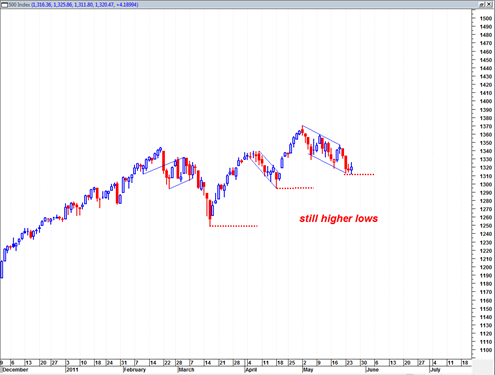 The daily MACD histogram is in a bullish triple P as of today and if we close above today's high in the sp500 it would confirm a daily buy.  So we could swing either way the last two days of this week, either back up into the currently tight trending channel or a break down from current level that busts under the current tight trading channel.
So far this correction just seems too orderly and corrective.  I really thought we would have seen a few fireworks by now, and if we don't by the end of this week, might be time to pull the plug on heavy bearish expectation.