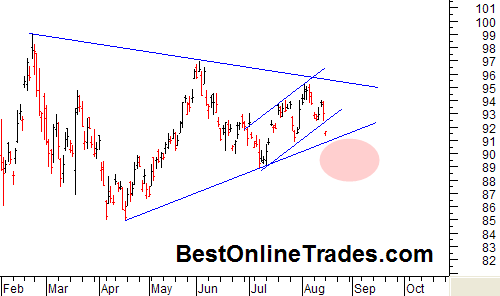 The GLD ETF has broken down below the short term up trending channel which was leading to a breakout out of this large symmetrical triangle pattern.  Gold clearly wants to test everyone's patience and throw another curve ball at us.
The break down in the GLD today coincides with a breakdown in the broad market and a big move up in the US Dollar.  The GLD is still within the large symmetrical triangle and it is looking like it will come down to test the bottom of this symmetrical triangle.  I really would like to see it hold. 
If it does not hold then something else is going on in the gold market and I may have to rethink bullish possibilities.  I would like to see the GLD ETF hold above the 90 level and most certainly above the 89 level for me to still stay constructive on this market.
We are most likely heading into a seasonal low by end of August which is only 2 weeks away.  So I would like to see support hold by end of August so that it could potentially provide a spring board for a rally going into September.
But maybe I am looking too far ahead.  We will have to see how well this triangle holds into the end of August.