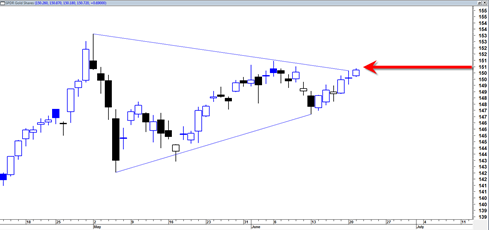 The GLD ETF looks like a buy above 151.  The gold price has been quietly consolidating in sideways fashion the last month or so and all things considered has not undergone significant price destruction.
The GLD appears to be in a coiled state right now and ideally would start to lift off tomorrow out of the current resistance zone and out of this small triangle.
Having said that, it cannot be said that we are in the ideal seasonal time frame for another large gold price surge.  Perhaps the gold price can buck this trend and trade higher.
Another option is that it reaches the high of 153.61 and then continues to consolidate sideways a bit longer until a bit later this year.
The US Dollar index looks like it is in failure mode again which would support a rising gold price from here.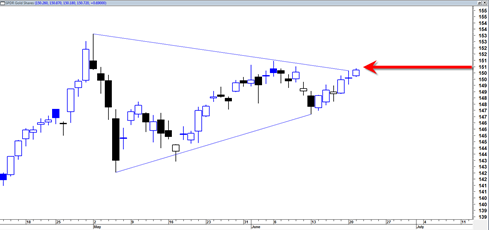 The daily MACD looks bullish for the gold price, but the weekly is showing we are at a juncture where the gold price needs to maintain upward momentum strongly the next few weeks to turn the weekly tide up again.  The monthly is still in bull mode and has been for what seems like eons.
It seems like the greatest risk is just more sideways and messy trading range on the GLD.
Ideally, the GLD would not procrastinate and then zoom higher to new life time highs again next month…