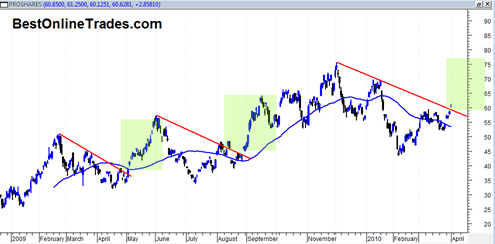 Today I went long the ProShares Ultra Silver ETF (AGQ) which is leverage 2x the amount of silver.  If silver moves up 1% then AGQ attempts to move up 2%.  I need to put my money where my mouth is.  In a previous post I talked about how previous metals seem to have a better risk reward than the broad markets right now.
I went long the ProShares Ultra Silver ETF because I want to be early in what I see as a potential big move coming for the precious metals.  Silver has been the 'slow dog' in the bull run and to be honest has been severely lagging the move in the gold price so far. 
Having said that, there are two separate takes to explain this. 
One take is that because silver has been lagging the gold price so badly it means that the entire precious metals run is in doubt because silver is not confirming the move in the gold price so far.  This would be known as 'non confirmation' similar to the way the Dow Jones Transportation average either confirms or does not confirm the move in the Dow Industrial Average.
The second take is that although silver has been lagging gold, it is just a matter of time before silver plays 'quick catch up' to gold and confirms the final blow off move in gold.  This would mean that the price of silver must get an extraordinary rally going in the next year to the 50 dollar range and even beyond that level.  Why? Because the price of gold is already trading at lifetime highs and has already exceeded the old 1980 price high of 850 to 900.  Silver's high in 1980 was in the 40 to 50 dollar range and so in order for silver to catch up to the gold price it needs to get near those record levels.
This will take some time though assuming I am correct with the 'second take'.  But it is also important to keep in mind that in many later stages of commodity bull markets 90% of the move can happen in the last 10% of the time.
Right now the silver futures are showing a quite large head and shoulders bottoming formation that projects to roughly an eventual 30 dollar silver price.  That level may be achieved by the end of 2010 ? Just a rough guess, but it would be consistent with the statement I just made about 90/10 commodity bull market rule.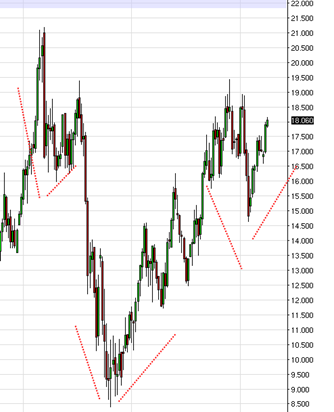 The volatility of silver has been nothing short of astounding reaching a super peak of 21 and change adn then falling abruptly to 8.5, but then bouncing back up again all the way to 19.
And yet despite the volatility every portion of the move in silver seems logical.
The huge price decline to 8.5 marked by the recession and lack of demand.
Then the recovery leg back up near the old highs.  But then the selling at the 19 level representing all those who 'bought high' at the 19 level.
Those who 'bought high' in my opinion are almost done with their selling and should allow the silver futures to move higher into an eventual leg above the 19 and change level and then beyond to new all time highs.
In fact I would not be surprised to see silver lead higher in a new breakout out of this pattern before gold really gets a big move going.  Why? Simply for the reason that silver has lagged so badly and now wants to start catching up and showing relative strength.
If I am correct in the coming move in precious metals it would once again seem to completely destroy any deflationary argument going forward.  For deflation to work from this point on we would need to see previous metals and the stock market completely fall apart.  And that tape in both markets seems to be saying the exact opposite is going to happen going forward.
So the ProShares Ultra Silver looks good for a run.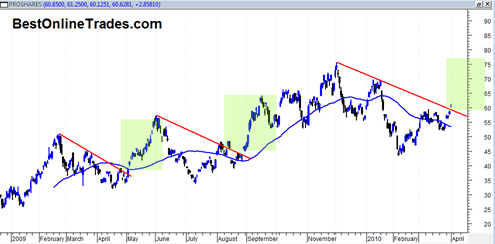 And note how it has elected to move above red line resistance similar to two previous occasions.  In the previous two times, it has blasted higher to the previous highs and then briefly exceeded those highs before pulling back again.
If that happens again, then it could mean the AGQ is on a mission to the 80 level.