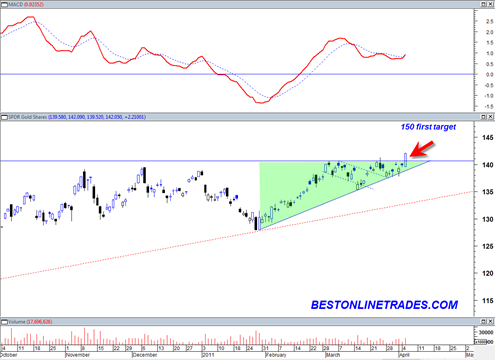 Today the Gold price finally got the job done.  The GLD was flirting with new all time highs for a whole month and teasing both the bears and the bulls.  With today's very clear sign of strength, the GLD ETF and the DGP ETF is a very clear trend buy right now for more upside in the months ahead.  This is about as low a risk trend buy as you will see in any market.  Day's like today are the kinds of days traders wait a long time for.  They provide very little doubt about what the next trend will be and are a huge clue and 'cheat sheet' for traders.
Before today, I think still one could have made some bearish arguments for gold, but today's move decisively puts the daily MACD and the WEEKLY MACD in buy trend mode and I expect plenty of upside from here.
Pretty much the same can be said of the GDX mining ETF.
BestOnlineTrades.com has been talking about how Silver has been leading the markets to new all time highs, then gold was in second place and the Russell 2000 third and the sp500 maybe last.  Silver continues to move higher after the successful very low volume retest about a week ago.  This was a key sign that the silver market was not ready to fall apart despite all the top picking attempts.
I really hate to overplay the 'Marty Armstrong June 13, 2011' 8.6 year turning point but once again I find myself thinking about this key date as we see the gold price blast higher today to a new life time high breakout.
The reason why is that Marty Armstrong describes his cycle dates as attractors and he actually preferred the gold market to do DOWN into this date, but now with today's mega breakout in the gold price, one has to wonder if June 13, 2011 is setting up as a major reversal juncture for the gold price and maybe silver as well.
If long the GLD DGP SLV or AGQ, I would keep a very close eye on this June 13, 2011 date as a potential key reversal date.  I would simply view it as a future road sign to watch out for in these markets as we know that they can fall a lot faster than they go up.  I doubt very much that June 13, 2011 is a final top for the metals, unless they are trading near 2000 an ounce near that time frame…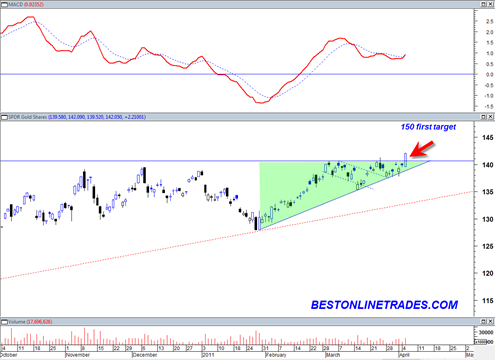 The gold, silver and now the mining stock indices are the strongest markets in my opinion.  The stock market continues to go up, and it may continue to do so, but the lead sled dogs in this race are clearly the metals…