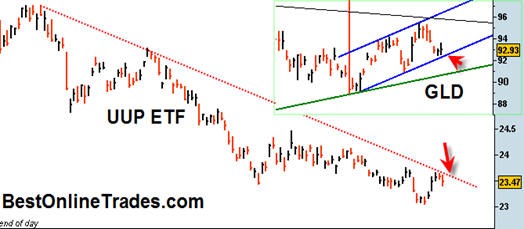 Today was a pretty wild day in the gold market.  Gold was up pretty good going into the FOMC meeting, then it sold off hard right on the FOMC decision and the US Dollar as represented by the the UUP ETF started rallying big time and was starting to create a very bullish looking hammer with price moving to the top of the bar.
By end of day, gold as represented by the GLD ETF was able to get some footing and settle for a mid range close.  The UUP also got a mid range close.  It is nice to see that the GLD ETF got a little bit of bounce going on the blue channel line I had mentioned several times before.  But it is still too close to call on whether the channel support holds for the GLD.  Perhaps the next two trading days will tell the tale.
I would absolutely love to see the GLD ETF hold this blue channel line and get a move going back UP again and towards the top portion of the channel.  That would be exciting because it could imply another possible (and maybe final ?) breakout attempt of the top portion of the symmetrical triangle.
On the other hand the UUP ETF (US dollar Index) is sitting right under long term down trend resistance. It bumped its head on this resistance line today.  I thought it really quite possible that the UUP would get a big upside breakout today… but it didn't happen.  So now we wait.  The dollar with its bullish divergence is supposed to get a breakout pretty soon.  If it does not get one soon, then it is going to be a big problem for the dollar in my opinion and a plus for gold. If the US dollar does not get a breakout going soon, then I would not be surprised to see the exact opposite happen, a dollar free fall and severe break down.
Bob Prechter recently did an interview over at yahoo finance pointing out that sentiment wise the dollar is overdue for a big rally and is at a major bottom.  So Bob is in the same camp similar to what the Moundreport.com is saying.  They are both looking for a huge dollar rally.
I might start agreeing with their case once the UUP gets a big upwards move in a sign of strength above that long red down trendline.  But as of today it just has not happened! And if it does not happen SOON, then I am going to start becoming more confident of a gold price breakout and a continued broad market rally.