They huffed and they puffed all day long, trying to body slam the gold price down to create real downside technical damage today.  But in the final analysis, all "they" could accomplish was a minor breakdown on what I consider to be very weak volume (volume on the GLD ETF), especially as compared to last Friday's trading volume.  It was roughly 50% less and a bullish sign.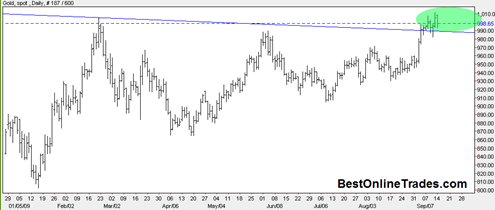 I am going to continue to be…
"Pounding my Fists on the Table Bullish" on Gold Unless I see a Price CLOSE below 988 this Week on Spot Gold!
It absolutely blows my mind how many gold pros and non gold pros alike are hesitant, cautious and generally non believers of this gold move.  What I have been hearing the last week or two is non confident talk and doubt that we are going higher the next couple of weeks.
To me that is actually a good sign because like any other market you want to see price climb the ever classic "wall of worry".  This appears to be the case now.
The next 2 and a half weeks which make the up rest of September have the biggest potential of turning gold into a moon shot in my opinion.  Everything is all lined up for it like I have never seen before.  As long as we close above 988 this week on the spot gold price I see no reason to change my forecast and sentiment.
The gold stocks behaved well today also and declined on meager volume and show evidence of normal trading consolidation within early uptrends.
Let us not forget that the yellow metal is fully capable of trading up 30 to 80 dollars in one day!  I believe 75 dollars is the maximum limit up price that comex gold is allowed to trade in a single day.  I don't know if we are going to get such a day in September but I would not be surprised if we did.
I would absolutely love to see a sprint to 1050 at some point during the next 2 and a half weeks as I think that would be what it takes to bring in a huge inflow of 'cautiously bullish' longs into this market.  To a certain degree we are still at a tipping point because the big money crowd does like to see real confirmation before making a full commitment which is understandable.
So crossing my fingers here for a move to 1050 during the second half of September!!