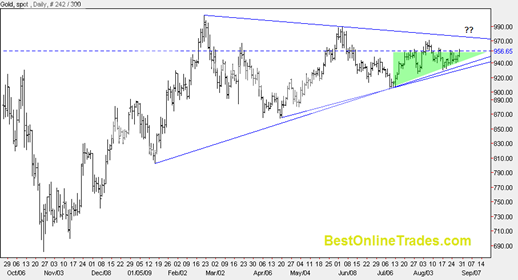 Spot gold has some good upside action today but it is still early and we still do not know how the day will end.  But so far today I am seeing bullish signs and a good possibility of a bullish closing weekly price bar to set us up for next week.
It would be superb if we can get a bullish weekly close going into next week.
I am seeing that the daily MACD has crossed up on the spot gold price for the fourth time since being in this large triangle.  In the near term there is a slight tendency to an ascending triangle formation (green shaded area) in the chart.
Still, the spot gold price has not achieved a move above the 970 to 980 area that is necessary for me to say we are in breakout mode and have much higher confidence that the breakout is for real.
Is there still a bearish case in this gold price triangle?
In one word. Yes.  I still cannot rule out a bearish case yet for the simple fact that we are still in the triangle.  It is not that uncommon to see a false downside break out of a symmetrical triangle.  And then subsequently see a reversal move back inside the triangle and eventual topside breakout.  There simply is not way I can predict that.
All I know right now is that we are looking constructive for a topside breakout and we are entering NEXT WEEK the powerful seasonals for the gold price.  It would seem that a good bunch of gold futures traders are buying gold right now in anticipation of the September bullish seasonal gold play.  In a previous post I did on the gold price I mentioned how on the  GLD ETF had given a low volume reading that was the lowest since Christmas 2008. It will be interesting to see in hindsight if that price level marked the final low for the gold price.
I am also noticing today that gold is actually up while the market is slightly down today.  Perhaps we are entering a phase now where the gold price will not be so dependent on the broad market going up for it to go up?  Could be, but still way to early to tell.
The US Dollar is barely hanging on by a thread and as I have stated many times before it is in my opinion that we could see a severe break down on the transition from August 2009 to September 2009 period.  That could help the gold price along quite well.