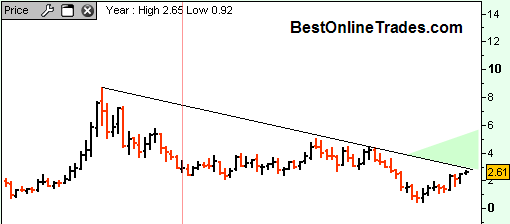 GSS Golden Star Resources may be setting up for a breakout soon.  Amazingly GSS has been in a consolidation since December 2003 !  I don't know about you but that is a LONG time in both regular time and trading time!  GSS is now slowly approaching its long term down trendline and I think it has got a good shot at getting some sort of breakout going.
I believe earnings are coming out on August 11th.  Not sure if that is going to be the catalyst or not, it could be.  So far GSS has touched its long term down trendline 3 times previously, so this resistance line is definitely significant.
When you combine this price structure with my previous alert on the gold price, you have the makings of a high probability trade.
I should say though that in general I am not too fond of the gold stocks.  I think they may be more ideal for swing trade opportunities rather than trend trades.  After observing them since 2003, it has become clear to me that gold stocks are not tech stocks.  Gold stocks tend to have deep and repeated retracements, labored trends and slow movement.  They are very cost intensive businesses and slow to market type operations.
But gold stocks DO have their moments of fame.  They are not always so cumbersome.  So the trick is trying to figure out when they are going to really shine and get a persistent vertical run.  I actually think that time may be close when taken into the context of what I believe the gold price will do for the next 6 to 9 months.  When all the variables are right, and combine into the right place at the right time you can see near vertical and persistent moves in select gold stocks.
So maybe the gold stocks are waiting for a really nasty bite of increasing inflation? That could be, but till now we have not seen inflation become out of control or very extreme.
But fundamentals aside, the chart is saying that things could start cooking for GSS in what might turn into a 6 to 9 month trend trade.  But until it breaks through down trending resistance, it should still be considered to be in a bearish trend.