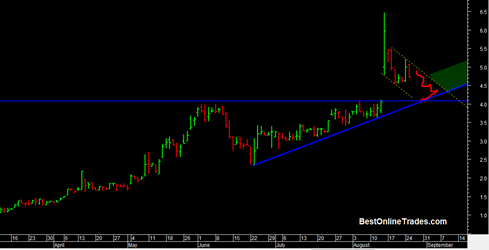 GRRF had a huge upward breakout spike in early August on some good earnings numbers.  Since that price spike the price of GRRF has been trending down within a steep down trend channel denoted by the yellow dotted lines (click on chart to see full size).
Right now I am thinking that GRRF is going to retrace this huge move and attempt to fill the large opening breakout gap and maybe come down into the low 4 range.
If it can fill this gap and hold support at the 4.10 range then I think GRRF may have a shot at resuming the uptrend and get a test going of the high volume swing high that created the gap.
GRRF should be able to fill this channel and make a decision no later than September 8th, 2009.  But I am going to have to watch price and see how it behaves when and if it is able to get into the low 4 range.
This stock has had some spotty trading action but it has been able to get a strong uptrend going since the March 2009 lows.  I think it has a good shot at resuming this uptrend, but first needs some more downward consolidation.
I would not be surprised to see GRRF fill the gap in one or two days price action that turns into a mini panic.  But key will be holding support and then working a way out of the short term down trending channel.