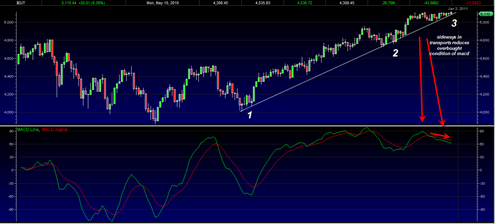 The Dow Jones Transportation Average is a great example of the type of market we are dealing with now.  We are certainly not dealing with a volatile trading range type market.  Quite the opposite.  We have a market that is trending higher in persistent trend fashion and relieving overbought conditions by going sideways.  Looking carefully at the chart below reveals a picture of the transportation average trading sideways in almost perfect fashion for the last 3+ weeks right back to up trendline support.
The chart below also reveals that the transportation average is on the '3rd touch' of the all important September 2010 power up trend line.  A blast higher from here in the transports would be quite a bullish continuation signal.
This is the type of market that makes for very difficult short setups in the indices or ETFs.  Attempting to short the market other than on very short term intra day basis is not recommended at this time.
The way the transports are set up now seems to confirm my earlier theory that the market will push higher right into the last day of the year.  There are only 2 trading days left in the 2010 candlestick but I suspect that we may start the first trading day of 2011 with a big up day and only thereafter (Tuesday onward) start to retrace down for a bit.
This is my new thinking now.  A high close into end of year and then a January 3rd, 2011 one day blast higher.  Then from Tuesday onwards some type of selling mode that brings some doubt into the thoughts of a 2011 up year.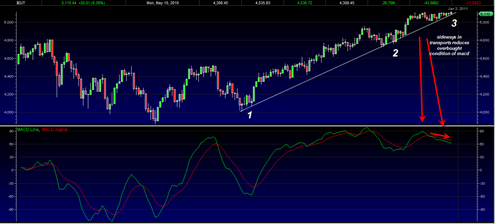 So the plan still is to switch to a BOT short signal maybe on the 1/3/2011 end of day assuming we see a very big up day.
Of course I will have to re engineer this plan depending on how tape evolves over the next few trading days.
We are dealing with a market of extreme strength.  I cannot rule out that the retracement into the 2010 yearly price candlestick will only be 1 to 5% and then start to push higher again into 2011. 
Notable I am seeing the US Dollar index fall out of bed again today and seems to be confirming my earlier take that the UUP ETF could be failing again here which would support an end of year blast higher in the equity markets.