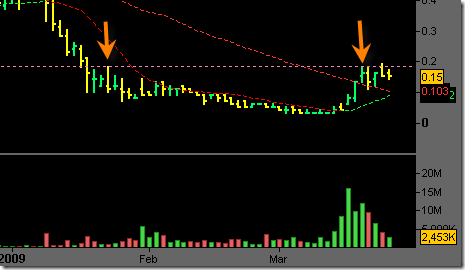 I have been watching HAYZ Hayes Lemmerz stock closely today.  This auto supply company trades on the Nasdaq and makes steel and cast aluminum wheels for most of the major auto makers.  Now I probably do not need to tell you anything about how much trouble the auto makers have been in during recent months and last year.  This is widely known and there have been serious questions raised about the viability of their business models.  So here we have HAYZ which makes the wheels for the auto makers on a global scale.  Is demand for cars ever going to pick up?  Or at least will sales decline rates start flattening out?  I don't have the answers to those questions, but we can only hope the market does.
HAYZ has essentially been priced at bankruptcy a week ago when it was trading at about 3 cents.  This stock is essentially a penny stock now which is pretty astonishing considering their total trailing monthly sales are roughly at 2 billion.  The market capitalization of this company right now is about 15 million.  I have seen plenty of OTC BB and pink sheet stocks with basically no business operations with market caps of about 15 million. Wow. What a beating this stock HAYZ has taken.
But you probably know by now that I try not to dip my fingers too much into the fundamental cookie jar.  I would much rather try the technical take and base most of my judgment on that just to keep my sanity.  Having said that, you should know that earnings call is scheduled for April 6th, 2009 and that date may serve as a catalyst either up or down for HAYZ.
HAYZ has made an enormous run from .03 to 18 in the last couple of weeks.  That is an astounding run and it seems clear that this type of move needs some more consolidation. I am watching it and looking for possible entry points in the .10 to .12 area.  I am going to have to watch it closely to see the nature of the consolidation we get.  In some cases you just get very minor retracements and then continued big moves higher, especially in very oversold fire sale type situations which we seem to be in now.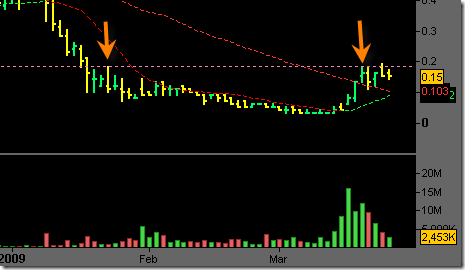 HAYZ has a few things good going for it right now from a technical perspective. For starters we can see that the 13 day simple moving average is about to cross over above the 50 day simple moving average for the first time in a long time.
Secondly, we see that the recent move in HAYZ has a massive amount of volume accumulation.  Also, in the month and a half previous to this there was already a significant amount of volume accumulation.  I think it is fair to say that the entire float has already been turned over (float is roughly 100 million) in the last month or two.
Lastly, and this is key, we see that HAYZ has tested the .18 price level on a volume swing high that tested a previous swing high on higher volume by a FACTOR of 8.  I am approximating the factor of 8 volume increase.  But I can tell you that it is at least 600% higher.  The two swing highs I am referring to are pointed out in the chart with the orange colored arrows.
When a stock tests a previous swing high on 600 to 800% higher volume it should get your attention because to me it says that the .18 price point will not only be exceeded but exceeded in a big way.  It is saying that we should eventually break through the .18 level and blast higher.
But we have the earnings call on April 6th to contend with before then.  Volume has dropped dramatically since the first up surge, so now I think it is reasonable to expect some sideways drifting and consolidation before April 6th.  Perhaps we might make a shakeout to the .10 area once again and build some sort of sideways pattern.  I am going to watch this one closely.  If it is strong enough, it may break .18 sooner than I think and I may have to enter at .18 or slightly above.  The more preferred strategy is to enter on a low volume retest of one of the price swings we did 4 days ago. 
Definitely a very high risk setup! But for now and at least as of the date of this posting I like the setup!