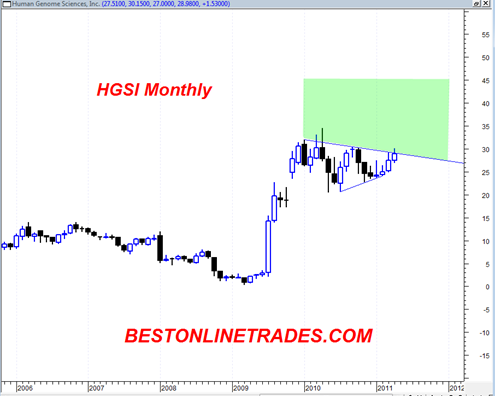 HGSI Human Genome Sciences appears to be another 'big pattern' that could start to evolve into a new move soon, but at this time I have no plans to go long HGSI.  I may change my mind depending on how other big patterns I am watching start to evolve.
Still, HGSI appears to have some promise as a higher priced stock that could start to see a new move out of this big pattern.  Biotech stocks sometimes have the habit of doing large gaps up or down and so that makes this potential big pattern play somewhat more risky and tricky for entry purposes.
Even though HGSI is not part of the Cheetah Trading System at this point, I still wanted to mention it for tracking and research purposes.
I will be happy to see if HGSI confirms my currently theory that big trading patterns make up one of the best longer term trading strategies.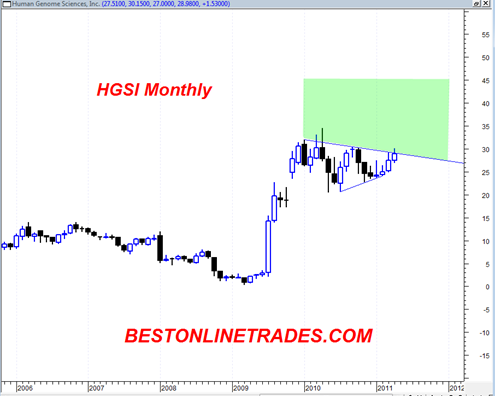 As a side, note, big patterns generally require that there exists a bull market in stocks.  During 2000 to 2003 and 2007 to 2009, I doubt that there existed many bullish big pattern setups.  On the contrary, probably most of them were bearish big pattern plays.  So despite the potential positive prospects of big patterns, I think one has to be aware that when the entire market changes direction, caution is advised. 
A big pattern trading strategy does not mean one should turn a blind eye  to the indices. They still matter and could serve as fair warning to change strategy upon a switch from bull to bear market.