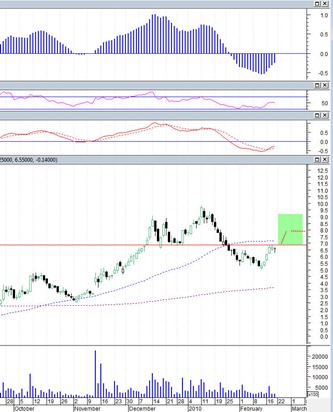 HPJ Hong Kong High Power Technology could be setting up for an ABC up type move that could launch it to near the 8 level.  HPJ is a china stock that makes batteries, so we are talking demand for energy to power many different types of gadgets.
A small snippet from the HPJ website:
Our batteries are used in all kinds of electronic applications, such as digital consumable, telecommunications products, power tools, electric toys, lamps, laptop computer, GPS navigational material, electronic medical equipment, UPS power, solar power, E-bike, HEV
So clearly we are talking potential growth market here, not to mention the fact that they are in the hyper growth china economy.
Anyway my technical analysis read is that HPJ is almost done creating a pivot and may be able to trade up near the 8 level if it can break up and through horizontal red line resistance (as shown in the accompanying chart) which is very key if broken successfully to the upside.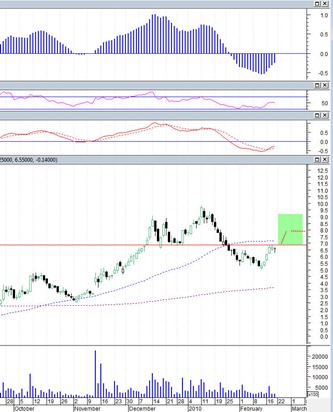 I liked the volume price swing on HPJ that occurred on this past Wednesday the 17th of February 2010.
It was decent but admittedly would have been nice to see 700,000 or more shares trade that day.  But as long as we can see HPJ trade in this small narrow channel of the recent 3 days without giving back too much ground, I think HPJ has a good shot to bust up and through red line resistance.
Next week will go a long way to getting a better picture on that front.
The 3 bullish candles (Starting from February 16, 2010) that began this rally is also a positive sign from a candlestick analysis standpoint.  I am not sure I would identify them as the '3 white soldiers' bullish candlestick pattern, but they are somewhat close.
So the interpretation could be that the bulls have regained control off the bottom and maybe want to build a bit of cause for a new run higher.