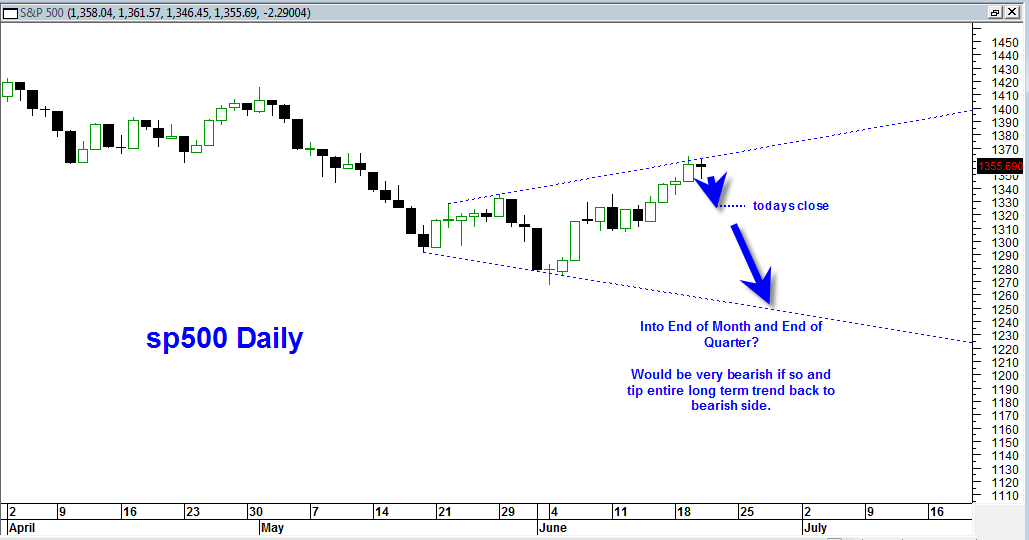 Today was a huge sign of weakness in the markets in terms of price, but not volume.  We had a very large wide range bar, a typical clear sign of weakness and possible emergence of new trend (bearish).  We did on the DIA close right at the neckline of a small inverse head and shoulders.  So a retest back to neckline is not abnormal at all, but the speed with which it was done today is a bit concerning.
We absolutely MUST hold 1325 in the sp500 tomorrow otherwise the prospects for bullish trend continuation are severely damaged.
I just mentioned in my previous posting that the last 6 days of this month and quarter will very extremely important.  It will define either a confirmed yearly breakout and quarterly continuation higher or a rejection that tips the scales back to the downward bias.
The quarterly candlestick this month is showing a bearish 'meeting lines' setup right now.  This bearish meeting lines pattern would be even more bearish if we get a sharp drop into end of month and quarter near the 1250 range.
After reviewing a few other charts including OIL an GOLD I might as well not be shy about it and just say the action today may have been very pivotal and enough evidence to warrant switching back to long term bearish stance.
The only condition upon which I will reverse such a stance now is if the sp500 readily and easily maintains and holds 1325 range.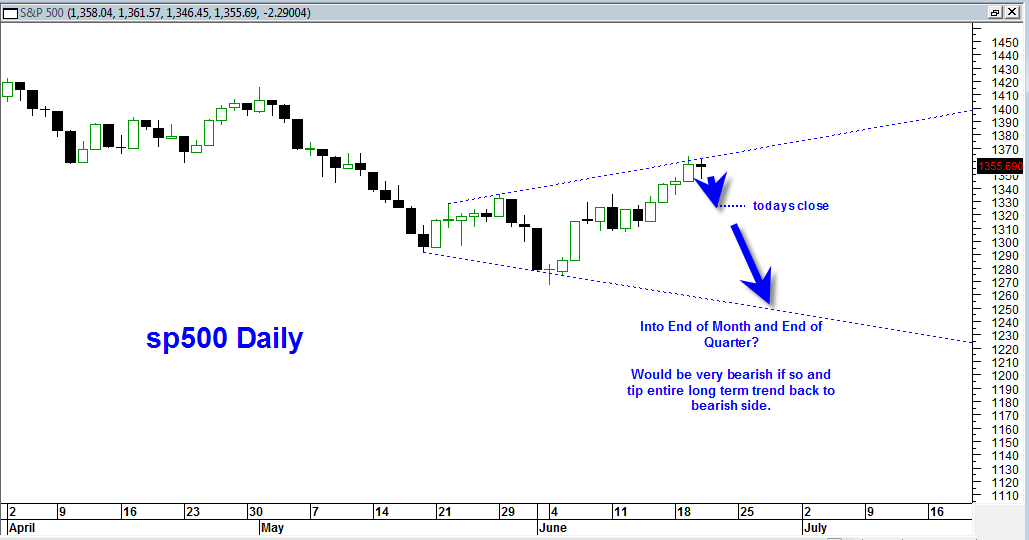 Note the possible broadening wedge formation which can have serious bearish potential if the environment is right.
If we end this month and quarter near 1250 it will be extremely bearish setup in my eyes.
P.S.  I will have extremely important long term 'State of the Markets' report at the end of next week (June 2012) since we will have final QUARTERLY and MONTHLY prices to judge the market on... stay tuned...