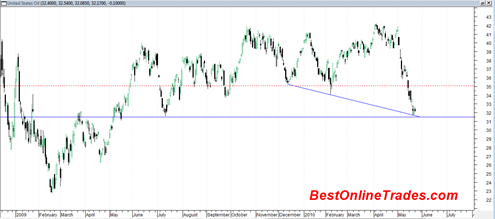 Going long the United States Oil Fund LP (ETF) USO or the ProShares Trust ProShares Ultra DJ-UBS Crude Oil UCO ETF may be one of the most attractive trades I have seen in a long time.  It looks like it is an outstanding contrary type trade.
I already mentioned that I am expecting a bounce higher in the broad markets.
Well have you noticed how badly crude oil was clobbered in the last few weeks ?  I mean we are talking a real beating.  Almost a vertical decline.
Sometimes commodities have a tendency to lead the stock market or move right along with it at the same time.  The moves can be more exaggerated than the stock market however.  And the recent plunge in oil is no exception.
Anyway to cut right to the chase here are the reasons why in bullet form why I believe there is a good chance for a 1 to 10 day bounce coming in oil and why I believe now is the sweet spot.
The USO has fallen to two separate support channel lines.
The RSI (Relative Strength Index) is extremely oversold.
USO is sitting on multiple channel support areas.
On May 20th, 2010 the USO gapped down on record volume.  I think the highest volume since April of last year !  I view this gap down as an exhaustion capitulation sell and a strong area of support now.
The macd histogram is starting to turn up.
The 60 minute macd is building towards the zero line.
The word is that you should not try to catch a falling knife in the markets.  This is good advice and I agree with it.  But sometimes if there are enough reasons to support buying on a down spike I like to give it a go.
The USO may test the 5/20/2010 low of 31.64 in the coming days.  Ideally if it does you would want to see volume that is significantly less than on that 5/20 day and then close back inside the range.
The wild card is the US Dollar Index.  I am looking for it to weaken from here but it may not do that until it does a retest of the highs.  That may correlate with another swing down test in the USO of the lows.
If you look at the chart you can see that the USO has had quite a large almost vertical drop.  So all I am really looking for from near these levels is a move perhaps into the 35 range which I believe would roughly correlate with a move to 75 in the crude oil price.
I believe this support range will hold for that bounce, but the issue is how many more days until momentum can shift.  Perhaps 1 or 2 ?
If I am wrong then the USO will gap down or break down badly below the 31.50 level and then show more follow through weakness.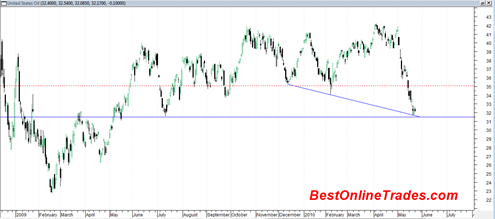 I have seen stranger things before but I gotta tell you I am going to be quite surprised to see us just fall apart and continue down 31.50 given the reasonably good support in the current range.
I would really like to see a turn around higher within the next two days, otherwise something else may be occurring here.