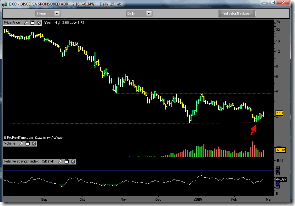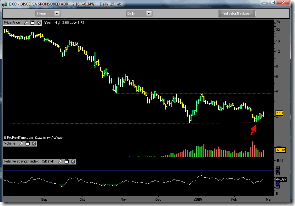 Yesterday I went long the DXO double crude oil long ETF.  My entry was 2.18 and my stop is at  2.05.
This seems like a  pretty good risk reward type trade. The price of crude oil itself has come down twice now to the 35 to 40 range.  the 35 to 40 range happens to be something  like a  15 to 20  year support line.  It is an area where crude oil has fought many battles over the years.  That tells me that price should remember this and be able to hold this level as a good bottom to bounce off of.
The DXO ETF as shown in the chart above has done what looks like a double bottom of sorts. I think we could see a move back up to the 3.55 range which is the top part of this trading range. Whether or not DXO does a successful breakout of that area remains to be seen. I would like to hold this trade and let it run a bit because of the double bottom setup and other things happening in the marketplace.
If I am wrong and this reaction is not ready bounce enough yet then I may get stopped out at 2.05.
Part of the dynamics of the crude oil move at least to me depends to a certain degree on the US dollar index and the general stock market as well. Everyone and their brother has been waiting for a big relief rally in the stock market.  That actually may be starting right now or very soon, perhaps in very early March. If we can get both the stock market to go up and the US dollar index to go down it seems that would give DXO a sustainable rally.
If the US dollar index were to top here I can see it providing a very nice bounce upwards to crude oil.  But I do have to say that it is still too tough a call for me right now to say what the US dollar index will do.  I can see it breaking down now, but can as good a case for it breaking out as well.
Incidentally if the stockmarket wants to get a good rally going here then one would think it needs the US dollar index to fall down again. So maybe that is what will happen and we will see a perfect storm develop for the crude oil.
A counter trend bounce in the crude oil market from its all time highs could take it to 70 dollars.  That would put DXO ETF well north of 5 or 6.