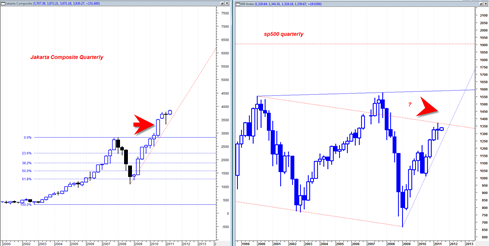 I have posted the chart of the Jakarta Composite before some time ago and I did so because I thought it was eye opening that a market index can do a 62% correction and then blast higher almost non stop going all the way back up to the old high and then blasting out even higher as a breakout to new life time highs.
I suppose the Jakarta index is just showing how this inflationary boom is occurring worldwide. 
It is quite fascinating for a market index to have that ability to 'turn tail' so quickly. 
I am not saying that Indonesia is equivalent to the United States, but it does at least open the mind to the possibility that the DJIA or the sp500 could initiate a similar upside breakout of 10 year channel resistance.
If you look at the quarterly price chart of the Jakarta Composite below you will see that as the price approached the previous all time high it formed a quarterly consolidation hammer candlestick, but then the next quarterly price candlestick was a HUGE HUGE break out candlestick that shot the JKSE to new life time highs.
The current sp500 has also just finished the April 2011 quarter as a consolidation hammer as well right under the 10 year long channel resistance level.  So it does make one wonder whether we are about to see an enormous upside quarterly candlestick similar to that which was seen on the JKSE.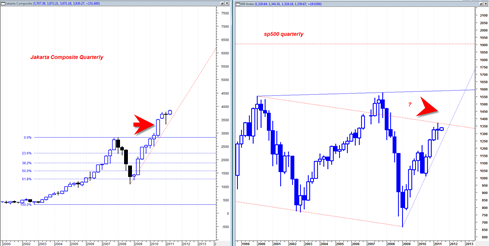 By definition and according to Wyckoff trading methodology, in order for a break out to be valid one really does need to see a wide strong candlestick that marks the breakout.  Breaking out of a 10 year range seems important enough, so it seems a requirement of this market to make it a valid breakout.
By the way the Jakarta Composite Index projects to about 5200 assuming that index does a 1.618 expansion from the low in 2008.