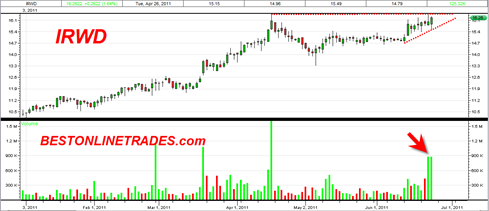 IRWD Ironwood Pharmaceuticals is another biotech and it looks like it wants to bust out north pretty soon, perhaps as soon as tomorrow.  I already have been talking about how biotech is the 'hot' sector right now and pretty much could care less what the rest of the market wants to do.. Biotech wants to move higher, and IRWD is no exception.
The last two days volume in IRWD have been building and could be setting the stage for a breakout north.
IRWD is a somewhat more slow moving stock than some other biotechs but is still no reason to discriminate against it.
A breakout tomorrow, on a Friday for IRWD would be quite the strong sign of confidence for this stock.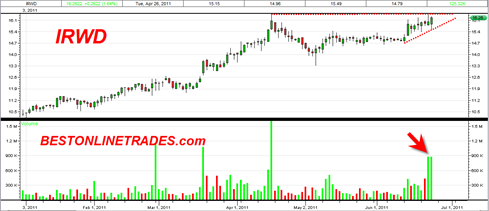 IRWD has been (so far) a nice orderly trending stock with reluctant downside volume and nice heavy advancing volume.  I like the setup and I like the possibility of a breakout soon.  If not tomorrow then maybe sometime during the next 2 weeks.