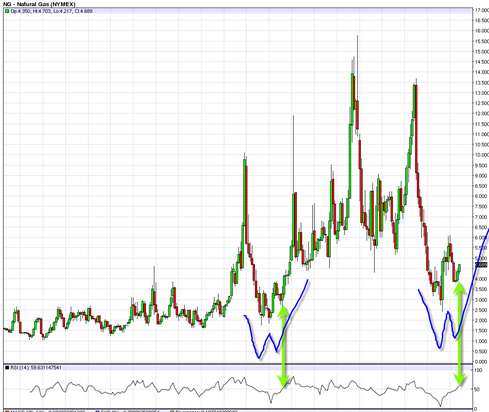 I did a post a while back on the long term Natural Gas Futures chart because I was intrigued by the potential risk reward setup going into second half of 2010.  At the time I was considering the possibility that Natural Gas could continue to break down badly again and do a full retest of the mega bear market lows in the 2.5 to 3 range.
But Natural Gas has managed to hold the 4 level and has in the last two months managed to bounce off of that level with a sign of strength and show some conviction.  It appears to now be creating the right portion of the W bottom I alluded to in previous posts.
My sense now is that both Natural Gas and the United States Natural Gas Fund, LP UNG ETF have bottomed for good in 2010 and that we can expect to see a dramatic rise going into the second half of 2010.
The monthly chart of the the Natural Gas Futures contract shows that the RSI level has broken above and through the midrange 50 level after having touched support.  This was confirmation in previous moves out of these large W patterns and you can see where I reference it in the chart below.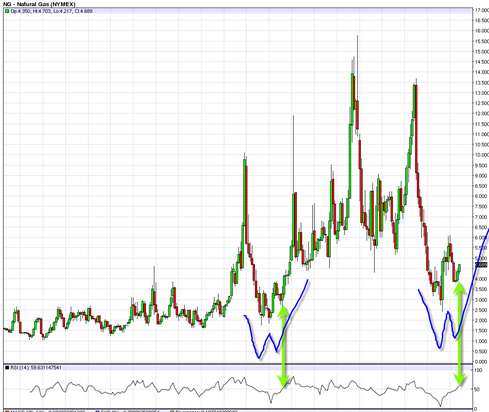 Natural Gas Futures have shown us in the past (especially in recent years) that it has the clear ability to make very large spike down moves and then with almost equal and opposite force an equivalent upside move.  I don't recall ever seeing a market that is so wild and volatile as this one.  It can almost literally move 90% down for a year and then 90% up the next.
Those who follow this market very closely probably spend millions of dollars on weather forecasting models so that they can get a step ahead of other traders.
I suspect that the WEATHER is what may move natural gas this summer and fall.  You have heard me mention the very strong astro aspects coming this July and August 2010.  It is known that sometimes astro aspects can also cause very large environmental situations to occur.  The oil spill is probably the first one, but I suspect massive hurricanes this summer are the second.  Obviously this is pure speculation on my part, but if there is anything that can cause Natural Gas Futures to spike higher in a straight line, it will probably be really bad weather and the bullish technicals that seem to be lining up now.
August and September of 2005 was hurricane Katrina and you can see that it caused a massive 2 month vertical spike in the Natural Gas Futures Contract (sorry the dates are not on the bottom time line of the chart but you can see the vertical spike between the two W bottoms I have drawn in ).
According to Energy and Environmental Analysis Inc. :
The concentration of U.S. oil and gas production, processing, and transportation facilities in the Gulf of Mexico and onshore Gulf Coast means that a significant percentage of domestic oil and gas production and processing is prone to disruption by hurricanes. In addition, the very tight natural gas supply/demand balance that currently exists has magnified the impacts of large-scale hurricane disruptions on energy supply and prices.
So it is clear that a severe storm can cause this futures contract to shoot to the moon.  I am not expert at predicting the weather, but based on the structure of the current chart it looks as though the smart money already knows that something big will happen this summer to cause a supply disruption.
The United States Natural Gas Fund, LP UNG ETF has shown a big sign of strength today breaking north out of a multi month trading range.  So it would appear that the game is on and pullbacks to support should be met with a new round of buyers and a new sustainable uptrend going into the summer and end of year.