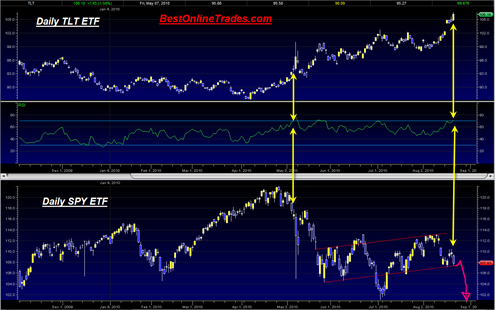 The iShares Barclays 20+ Yr Treas.Bond TLT ETF has just entered the power RSI zone above the 70 level.  The last time this occurred with decisiveness the market plunged into the May 6 2010 so called flash crash.
We are into the power zone again now and the TLT is blasting higher into what looks to be a blow off type move.  If the correlation repeats in similar fashion to the early May 2010 time frame then the stock market should be in for a huge plunge starting either tomorrow or early next week into end of next week.
The volatility index is still perched right under the top channel line of a huge falling wedge formation.  It appears ready to bust out topside within a few days.  So tomorrow being options expiration probably will see some type of upward bounce and then maybe a reversal by end of day into the close leaving the market with a flat close going into next week and some type of bearish reversal candlestick.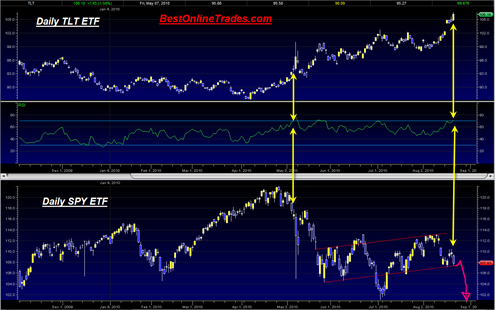 The chart above shows where the RSI blasted into the power zone and the corresponding move in the SPY ETF. 
Right now the SPY ETF and most of the other indices are in a bearish triple M pattern on the MACD histogram.  So the setup is there.  Now we just need confirmation which would occur if we get a daily close below today's low.
We are perched right on the bottom of the swing trading range again today.  The best scenario I can think of for the bears would be a gap down tomorrow that puts us under the swing trading range and shows a doji indecision candlestick.  That would set up next week perfectly for hard down.
The heavy volume today in the SPY seems to be an early indication that the volume contraction that has trickled lower and lower since the May 6, 2010 flash crash is about to end.  Today could be the beginning of a new surge in downside volume trend.
Despite the heavy bearish looking setup right now, I still have to say that no real bearish follow through can be considered real until and if we close below today's low.  I really don't know if that can happen tomorrow with OPEX.  And OPEX having a slight upward bias.  Probably not.  So perhaps a close below today's low will have to wait until next week.
The McClellan summation index ticked down today and seems to want to start getting downward momentum again which should limit upside potential in the market.  It is also on the verge of a moving average bearish crossover signal. . .