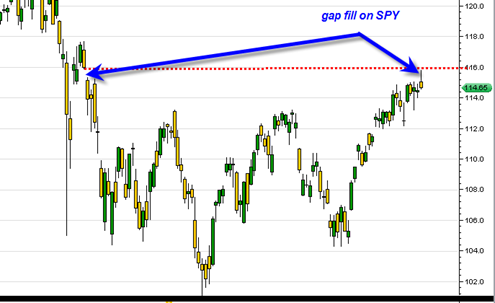 I may be a bit early but I went short the market just now.  Things look a bit toppy and so far the reversal looks quite convincing.  I went long the VXX 17 October Calls and also the TZA ETF just now.
I am officially re activating the BOT short signal right now.
The volume analysis I did yesterday was quite concerning to me and today at least so far we have a reversal going which may be a strong signal by end of day.  However it has been the habit of this strong market to evade all reversal signals, but this time I think it might not be able to.
In previous posts you heard me talk about how the market is propped up right into last day of quarter and end of September and that likely the first day of October will start to see a decline.  It looks more and more that way and maybe next week is finally a down week to work off some of the overbought situation.
The gold price also as a leading indicator is way overbought and over due for a body slam to the downside to work off some of the frothiness.  The US Dollar Index has gone down almost in a straight line and is also overdue for an upside bounce, perhaps back up to its break down neckline.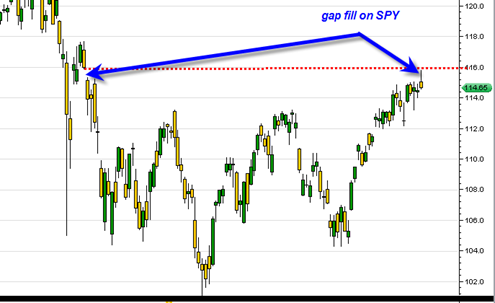 If you look at the SPY chart above you can see that the SPY ETF today almost fully filled the gap going all the way back to May 2010.  That GAP back in May was on 345 million shares.  Today, so far at least we are pushing into that gap maybe only 250 million shares (just a guess, but the final volume figure by end of day will be interesting as a comparison against this 345 million share gap day).
I am advising caution on the long side now.  This reversal looks almost too perfect.  Filling an important gap right on the last day of the end of quarter window dressing and OCTOBER looms tomorrow…  It can't be this easy right ? 🙂