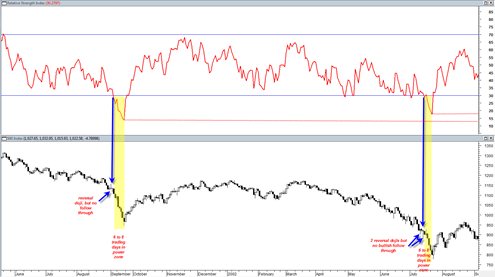 The candlestick reversal hammer that printed yesterday 7/1/2010 was not confirmed today.  The bulls needed to get a close above the 7/1/2010 candlestick to say we had a real market reversal or short term bottom.  They did not get the job done today and even worse sold the market off a bit right during the last 5 minutes into the close.  On some indices the last two days look similar to the two printed dojis we saw on 6/25 and 6/28.  After 6/28 we had a 3% down day.  So again these dojis seem to be indicating a pause in the trend but not a reversal of trend.
Looking at the NYSE McClellan Oscillator and summation index I see nothing but more indications of continued downward momentum.  The NYSE summation index reversed at the zero line and since then has had strong momentum to the downside that seems to be gaining steam.
You remember the bullish move from 2/5/2010 to 4/23/2010 ?  It seemed like the market was an unstoppable train.  It seemed like 1999 again but maybe not as glamorous.  It felt like the market was invincible again.  Doji and hammer reversals were completely ignored and the market just kept going and going and going, the market was climbing a wall of fear, although there was probably not much fear left at that time.
Now it seems like there is fear everywhere and the bulls are hoping for a bounce to change the trend.  Those who missed the shorting opportunity on 6/25/2010 are still waiting for a nice big bounce to get an ideal short.  So my question is, what if the bulls don't get their bounce reversal and the shorts don't get their ideal shorting opportunity next week?  The answer probably is that the market just tanks where bulls finally capitulate and new shorts pile on late in a frenzy before they miss the boat.
Today's closing RSI is 30.27 on the sp500 and once again we are sitting right on the edge of the cliff with no bounce so far and no conviction about going into the sellers 'power zone' below 30.
My take is that somehow the market will find a way to get into the sell powerzone next week.  A lot of energy can be built up over a 3 day weekend going fresh into next week.   The question that remains is whether or not we still get a 4th of July inspired bounce to either 1040 or 1070 on Tuesday 7/6/2010 of next week.  I really don't have an answer to that question.  I was looking for a big one day bounce up today but it did not happen and there was no follow through.  At this point I will just have to flip a coin on the one day bounce scenario.  Perhaps it is a mute point since the weekly trend is still clearly strongly down.
As far as the 1987 pattern similarity and the ultra bearish ultra fast decline scenario, my take is that it really only has about 5 trading days left to play out.  As I pointed out earlier, what we have not seen yet during the last couple of weeks is ending action or capitulation (wide price spread climax type move).  I think we need to see that type of action to blow out the current downtrend and finally get next consolidation phase.  So far we have not seen it, but I still think it is coming and I think it has a decent shot at occurring during the next 4 to 5 trading days given the fact that the 14 day RSI is perched right above the bearish powerzone line (30 RSI value).  Four to five trading days is plenty of time for the market to move big and get the RSI in between the 10 to 30 range.

In the chart above you can see that this weeks candlestick clearly closed below the important supportive range we have had going all the way back to September of 2009.  So far we have had a –3.6% down week followed by a –5% down week which closed this week out.  So my sense is that this slow gradual progression of weakness will turn exponential next week and maybe the week thereafter as well and that ought to be the selling climax.
Today we closed at 1022.58 and so a 10% decline from today would put the sp500 at about 920.   950 was the area I pointed out before as being strong support.  But what I have noticed many times is that when you can fast market moves to support area a lot of times what happens is price at first goes deep into the support and slightly under it before realizing it is valid support and often ends up closing right at the support level.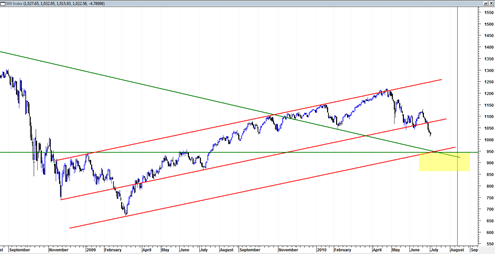 So it would seem that the next couple of weeks will finally get a price climax going.  I did say that we would see a big volatile move going around the days of this 3 day holiday weekend but it was not meant to be.  So maybe it is better to focus on the weekly chart structure for better timing. 
Maybe somehow BP will plug the oil leak up by the end of this weekend and it will be good for 300 DJIA points on the upside… just a guess.. but again, any rallies really should only be one or at most 2 day affairs to keep the strong downward momentum intact.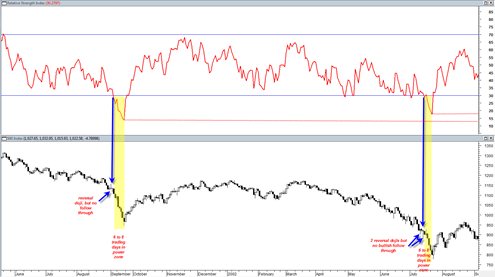 The chart above shows two other times where 14 day daily RSI broke below the 30 level.  I suppose this is the alternative to the 87 scenario were we decline in a more orderly yet persistent fashion.
You can see that in both periods above once RSI was decisively below the 30 level price continued to decline for another 5 to 8 trading days.  It should be noted though that it took RSI a long period of bounce on and above the 30 level before a true downside break was ever achieved.
The other reason why I would really like to see a capitulation soon (within the next 5 to 10 trading days) is because earnings season will start to kick in after July 12.  It would be better for us to get down much lower soon and then have earnings season kick in rather than the other way around.