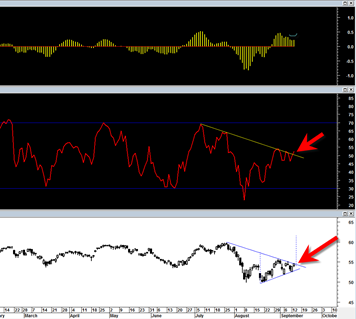 This has been a very frustrating market period.  August was down.  And now here we are in Mid September and the market is not falling apart, just bouncing.
I guess markets are supposed to frustrate people, that is just what they do.  Sideways trading ranges have a tendency to make the sentiment very bearish.  But for now it seems up will be the next direction.
The SMH appears to be leading the way up.. then AAPL and AMZN and the QQQ not far behind.
I guess Greece and all of Europe going BK is not going to stop people from buying an Iphone 5.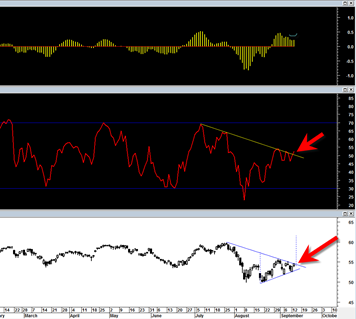 A huge move is coming and it appears that it will be up.
QQQ has been making higher lows but not dramatic higher highs.
sp500 and many other indices look much weaker of course, so we will have to see if the QQQ can manage to pull the rest of them up enough.
The scary thing about the QQQ chart from a bearish bias perspective is that it could measure back up to the old 52 week highs.  Crazy markets, crazy swings… this is the environment now…