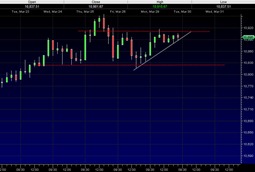 A runaway train is the best metaphor I can come up with right now to describe this market.  It just keeps going and going and going and the good news just keeps on piling on as well.  So it seems to be a compounding cycle of good news and more rallies.  It seems like no one wants to sell their beloved paper shares of XYZ stock.
I can't seem to remember the last time the overnight S&P Futures were actually DOWN and then started the next day DOWN.  It is almost as if the S&P futures are simply not allowed to be down anymore.  That is what it feels like.
The 60 minute chart I posted in my previous post is not acting like it wants to evolve into a confirmed pattern.  In fact it will probably fail tomorrow.  But if it does not want to fail then it will give an early signal of that by breaking down below the minor hourly uptrendline of the past 9 or 10 hours of today's market action.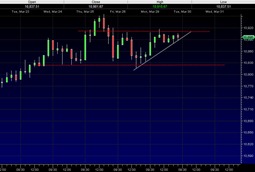 But I cannot help also but see price climbing along a demand line and sitting right under resistance sort of resembling an ascending triangle formation.
So we could just as easily see a northward breakout tomorrow in which case the market will probably hit new 52 week highs again going into end of month.
So I am not giving up hope yet on a corrective leg beginning, but at least as of now and based on the daily and hourly indicators, I see no imminent signs of one beginning, but I am still long the Direxion Daily Small Cp Bear 3X Shs(ETF).  Right now based on the closing price of the TZA, it is about 5% from the previous all time low of 6.70.  So I may have to take that loss if and when we get down there as a result of a bullish market rally.
Perhaps the market will be put in a bad mood tomorrow on the Consumer
Confidence Numbers at 10 am ?  Hmmm.  Tough Call. I have seen a bad consumer confidence number reading take the market down in the past at least a little bit.  But there is so much good news that is coming in now one has to wonder what the next piece of 'bad news' will be and when it will come ?
But we also have a holiday ending week this week and the volumes today were extremely light.  So it seems hard to believe huge volumes are going to come into this market this week.  In addition there is end of month and end of quarter window dressing which may keep the market afloat.
So, to sum up…
If the DJIA can manage to go down tomorrow and stay down below 10890 then it would at least keep this little hourly head and shoulders pattern alive and give the market a chance of turning into some type of more involved mini correction.
But if not… then maybe more new 52 week highs again and again…