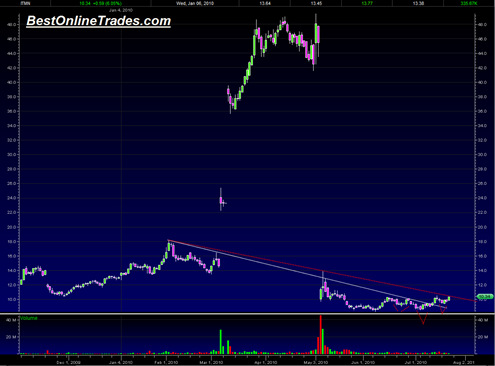 The stock market is decidedly bullish today and the volume today on the SPY ETF is very robust.  I believe the bulls won today and will soon break out north out of the diamond pattern I pointed out yesterday.  At this point I think the bears need to raise the white flag and move on.
ITMN is showing some bullish tendencies into earnings.  This stock is extremely volatile and was absolutely crushed on the FDA phase III rejection.
But since then it has made what looks like a head and shoulders bottom formation and earnings are coming out on 7/27/2010.
I am just looking at the technicals here and the down trend lines that are drawn in the chart below.  I think InterMune, Inc. could possible make a run for 14 on some kind of new optimism next week.  The newly bullish stock market should help it along a bit as well.
I drew in two downtrending lines in the chart below.  The white one was already broken out of with a sign of strength and increased volume.  The red dotted one was not broken through yet but today it looks like we are perched right under it.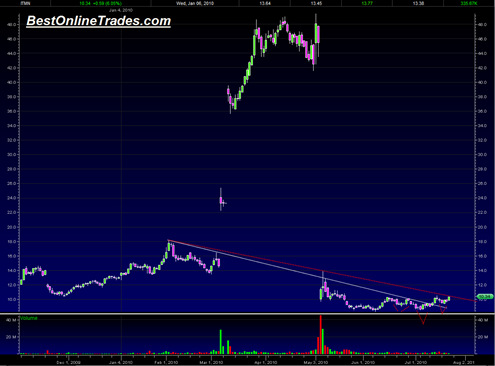 Seems like a nice risk reward from these levels.  Also on the very long term chart of InterMune, Inc you can see that ITMN has recently held very long range support levels.  This stock bounces like a basketball in very large swing trading ranges.