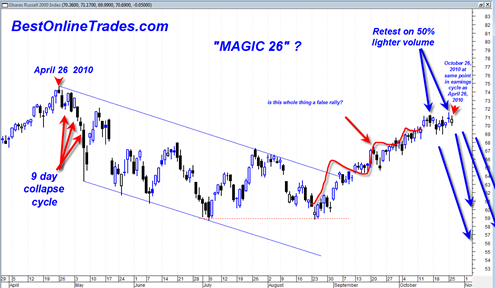 The IWM ETF is signaling to me that the top is officially 'IN'.  I don't know why I did not notice this before, but I am glad I have noticed it now.  This volume sell signal in the IWM ETF has just rocketed my confidence in the short side of the market with only 3 days left for trading in October 2010.  Because of this observation I am switching to BOT short signal as of the open on the sp500 on 10/27/2010.
Market analysis requires the constant digging for clues as to probably market direction.  Some indices give signals and others don't.  The more you dig for the early clues the better off you are.
The IWM is showing me that we topped this week.  We recently tested the previous swing high on 50% less volume and then closed under that high. This is a classic volume sell signal.  It is telling me there should be hard down price action on the way soon.
I also find it quite interesting that this topping signal is also on the 26th of the month similar to the final top of April 26th, 2010.  Both time periods are at similar phases of the earnings release cycle.  The date of 26 is perhaps just a curiosity and coincidence at this point, but it is still interesting.  More important is the volume sell signal.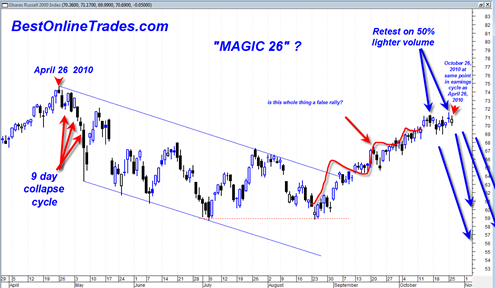 In the near term this sell signal implies a move down to the bottom of the recent range which is the 69 level. 
I think the top is in.  We could be in for a similar 10 day plunge cycle.  The downside volume will be key in determining if that is to be the case in the days ahead.