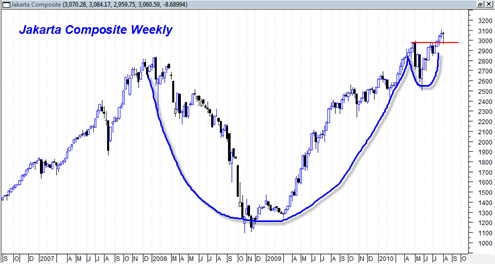 The Jakarta Composite is trading at lifetime highs in what I consider to be one of the most amazing stock market recoveries I have ever seen.  I am posting this chart just to show that sometimes the 'unthinkable' can and does happen.
Looking at the chart below near the early 2009 lows it probably seemed as though a super fast recovery and then new life time highs would have taken many years to develop.  This was not the case at all.  Once the Jakarta Composite started rallying again it seemed to never really stop until it got back up to the old all time highs and then did a handle formation to complete the large cup and handle chart.
This is one monster of a stock index and so it would seem that Indonesia is turning into a monster of an economy.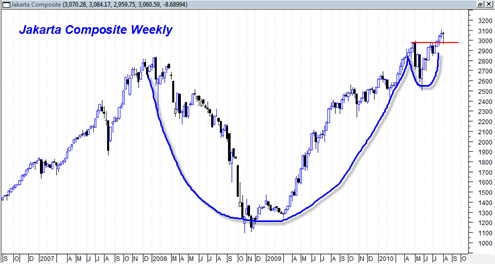 If you put the sp500 chart next to the Jakarta Composite it would seem that the US markets could make a similar run back up to the old highs.  Sometimes the impossible is possible in this crazy wide range swing trading type market we are in now.