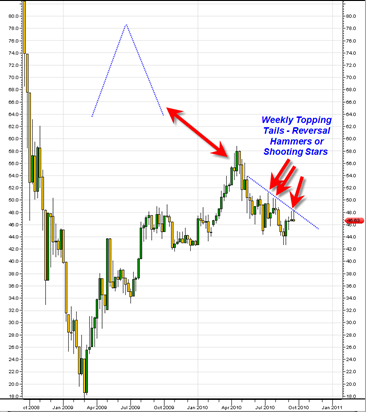 I have got a bit of a dilemma on my hands.  I have been preaching to the choir in recent days and weeks about how bullish the market looks and how it is going back up to the April 2010 highs etc etc.
But after looking at the KBW Bank Index (BKX) and the Russell 2000 it is becoming more and more difficult for me to pound my fists on the table in bullish fashion.  I am getting mixed signals.
Could it be that the still somewhat lackluster breakout volume we saw in the SPY ETF recently is a major warning sign that this is a false breakout?
I am becoming open minded to this possible factor now.  I am going to allow the sp500 some leeway for a normal pullback to support, but I am going to flip to bearish immediately if we get a close under 1120.  I want to allow the sp500 room for a retest of support, but if that support fails then it will have created a 2B Sell signal which is quite bearish.
Any time a stock or index does a breakout, the days work is not done yet. It must then PROVE itself and show that it has the energy to continue higher in bullish fashion.  Certainly it can retest new support, but the key is to watch how it tests that support.  If support breaks easily like a thin sheet of ice, that can potentially be a big problem.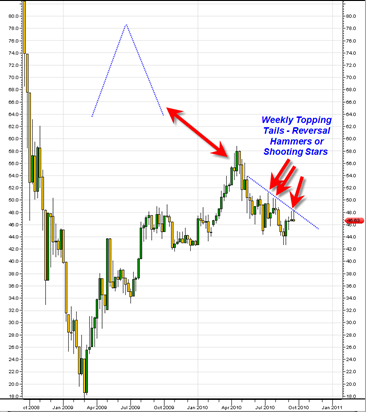 The chart on the left is the BKX banking index.  Clearly one can still see that this index is still in a downtrend that looks quite persistent despite the last several weeks rally.
There are two things that concern me.  First, the fact that this entire pattern since March 2010 looks like a tower top formation.
Second, the presence of so many WEEKLY topping tails on the candlesticks.  This is a weekly candlestick chart and those weekly topping tails (also known as shooting stars) are not a good sign especially since they are forming right near the down trend line.  The previous cluster of 2 weekly topping tails led to quite a significant market drop.
So I am looking at the BKX here and thinking to myself… how on earth can I be adamantly bullish the sp500 if the BKX looks so bearish on the weekly?  It is creating a bit of a short circuit in my brain.  But the end result is that I think I have to dramatically pull in my bullish horns at this point and take more of the attitude that the onus is on the market to prove itself the rest of this week and early next week that it will not break and close under 1120 (on the sp500).
Momentum does seem to be slowing on the upside in the sp500 and there is a chance that if the sp500 actually does break under 1120 it could lead to a large down move.  Why?  Because there are likely plenty of protective stops near the level, which if triggered can accelerate a down move, not to mention all the automated sell programs.
So at the risk of repeating myself again, let us see the market prove itself in the next few days.  I am tempted to make a 'BOT short' signal right now, but I am going to hold back until and if we see under 1120 in the days ahead. . .
P.S. October is coming up.  October still has that reputation of being a month capable of delivering downside market surprise moves… so lets see if the tape starts configuring that way…