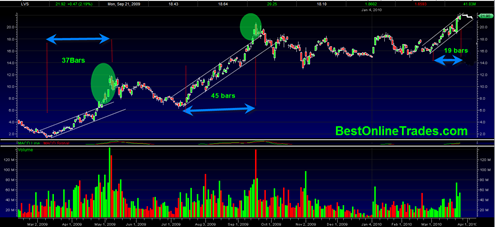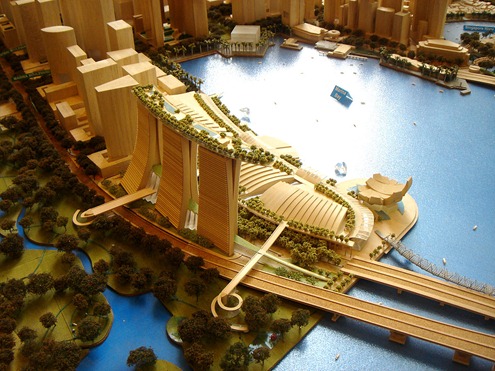 Las Vegas Sands Corp. (LVS) which I first mentioned as a possible breakout candidate here is behaving extremely well and right now is one of my favorite stock charts to focus on.
There are a number of reasons why LVS is worth keeping as a permanent watchlist stock for short term and long term tracking.
Liquidity -  Las Vegas Sands Corp. is an extremely liquid stock and it moves nicely and seems to trend smoothly, not to mention the fact that it has a very clean chart from a short term, and long term perspective.
Smooth Trending – I already said that, but I say it again because it is a great thing to have in any stock.  In fact if you did not tell me the stock symbol LVS before looking at the LVS chart, I would almost think it was a currency price chart as they also tend to move in more reliable trends.
Options Liquidity – It has heavy options volume and plenty of liquidity in that department as well
Its Cheap! – Relatively speaking LVS is still a lower priced stock and can still make some big moves. 
It is a nice way to play the contraction and expansion of the economy as discretionary income levels contract or expand.  Got a little extra cash? Well then of course! Lets go blow it all off at the casino and see if we can win big!
The Marina Bay Sands Casino in Singapore (pictured above) is scheduled to have its grand opening on April 27, 2010 after Las Vegas Sands Corp invested 3.895 billion dollars on it.
It is a proven business and not a China Stock that is just starting operations an unproven.  Don't get me wrong, I like all the little China Stocks, but many of them recently have plunged 30% in a few days time because of 'accounting problems' and other crazy reasons.  China Stocks can move big but a lot of them are still unproven business models and still highly speculative.
They have a 'sky garden' on top of the Marina Bay Sands Corp Casino! Man would I like to hang out in that park on top of those three large buildings! Totally AWESOME 🙂 If there ever was a place to take a woman out on a 'first date' that would be it !
Ok so what about the advantages… what about the chart right now ?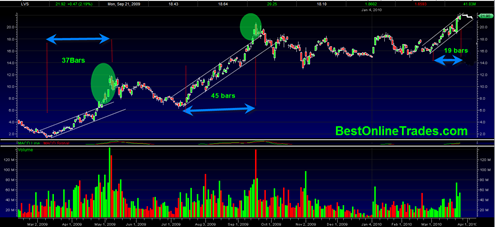 The chart setup right now is interesting because what we have is a recent breakout north from a large sideways trading range.
My take is that LVS could have another 15 to 20 more trading bars that continue in the general UP trend channel as I have indicated in the chart.  The previous two trends were 37 bars and 45 bars and in both cases at the end of the trend the price of LVS was able to break out north out of the channel in a price blowoff.
So my strategy at this point is to wait for a pullback in LVS, or perhaps a 2 to 4 day sideways move onto channel support and then take a at the money call option position to attempt to ride this uptrend.
I expect LVS to pull back down into this channel range and the most ideal situation would be to take a call position on a gap down decline onto channel support.
The big breakout candle was a major sign of strength and I suspect there should be at least somewhat of a retracement into that big candle.  That would be an ideal setup for going long.
So I am definitely keeping Las Vegas Sands Corp. on the watch list going into the end of April 2010 time frame.
The most recent two candlesticks did show some decent topping tails and hence some indications of supply coming into the stock.  So I hope that will be a hint of a coming decline to buy into near channel support.