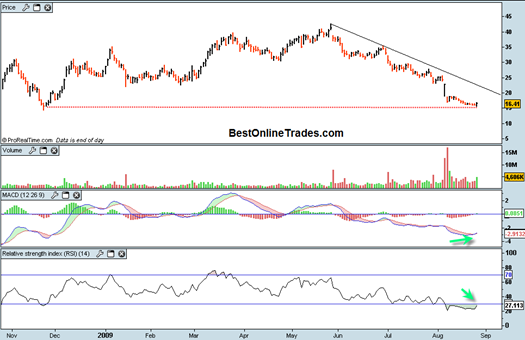 LEAP looks like a good setup to possible deliver about 10% returns starting from tomorrow in the AM.  I found leap by doing a stock scan of over 4700 nasdaq and NYSE stocks filtering for MACD daily buy signal and RSI less than 50.
Only 6 stocks came up from the scan because I had put the limitation that they should also be trading greater than 1 million shares.
LEAP looks good to me for several reasons.  It is doing a retest of an important late November 2008 swing low.  The daily MACD has extended to the downside and has given a bullish cross.  Relative Strength Index is very oversold and looks like it will soon give a buy signal.
I am looking to go long LEAP right near the open tomorrow.  I will have to see how things look in the AM but LEAP looks good for a nice bounce here. 
I am going to put the protective stop at 15.61 which should limit downside risk to about 5% depending on what the entry is.
I like the potential setup here and I hope LEAP leaps up big the next few days for a 10% move.  All I am looking for here is 10% not more and not less. Well maybe a little bit less 🙂