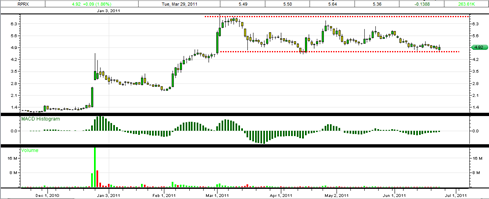 I like RPRX in the current position and location.  RPRX is a biotech stock that has a very small trading float and a very low daily volume.  It is a very high risk biotech stock and very speculative, but I like the chart and I like the nice swing trading range and the lack of a deeper retracement (so far).
Biotech continues to be a very strong sub sector within the overall market and has been holding up relatively well.
The speculative development stage biotechs such as RPRX can still turn on a dime, but I think it has a good shot at turning back up here again and will hold support.
Eventually I am looking for a break of the 6.70 range as a confirmed breakout.
For now I am hoping RPRX can move back to the topside of the current swing trading range.
I am currently holding RPRX as a position trade into the end of the year.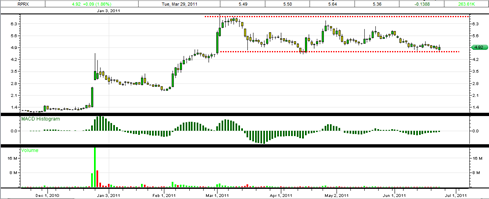 RPRX is a micro biotech but I am counting on the relative strength continuing to hold up and RPRX successfully breaking north out of the current range eventually.