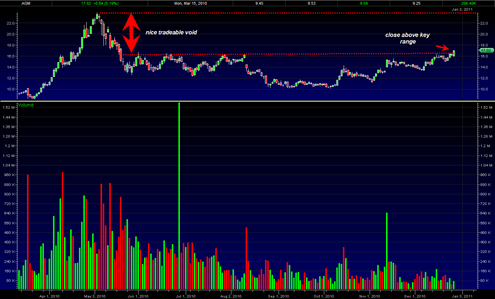 AGM Federal Agricultural Mortgage Corp. has quite a nice trading structure and today I went long AGM at 16.83.  AGM closed nicely into and above a key trading range as shown in the chart below and I think it has a good chance at moving to the top of the tradeable void between 17 and 23.82  Ideally the 17 range will transfer into support in the days ahead and we will see AGM move higher in a nice trending fashion.
Apparently farmers are going to be the 'new rich' in the months and years ahead as we see booming commodity prices support farmers and their land.  I think this is a potential plus for Federal Agricultural Mortgage Corp.
AGM is actually a pretty good trading or swing trading stock.  I keep it on my watchlist all the time and look for pullbacks to trend and breakouts out of ranges.  It has the potential to be quite volatile as well.  Definitely one worth keeping an eye on in my opinion.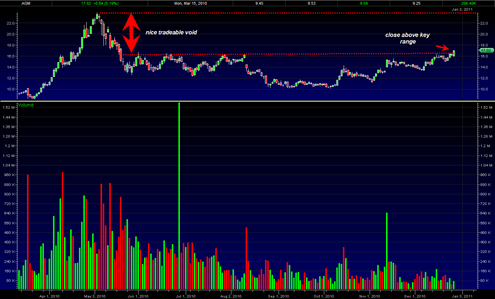 The volume on today's mini breakout was extremely light and is a potential warning sign.  I want to see some good follow through this week or at least holding strong the current range. 
There appears to be between 1 to 40% of potential upside from the 17 level from here.  AGM has seen some persistent moves in the past after it has achieved some initial running legs.  It will be interesting to see how AGM holds out this week.