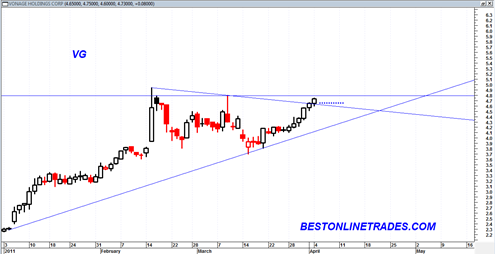 I went long VG today at 4.68 as Vonage Holdings seems ready to break above the recent triangular down trend line and trade a full candlestick body above this down trend.  I would like to stay long VG for a week or two or three as a possible swing trade.
There is nothing 'magical' about this trade, but it appears to be a small to mid cap stock that is in a growing business with some near term momentum.  So this is a trade, nothing more.  I am not looking for a miracle here, but would certainly like to see some nice upside going forward.
VG has had about a 1.5 month sideways consolidation up until today and is constructive for a new move higher.  The major challenge level is the 4.94 swing high on high volume that occurred on 2/15/2011.  I suspect there will be a bit of selling near that level and maybe even a handle of a cup and handle type situation developing.
I am willing to take 'pain' slightly below 4.5 assuming that does occur, but would then like to see a quick resumption of uptrend.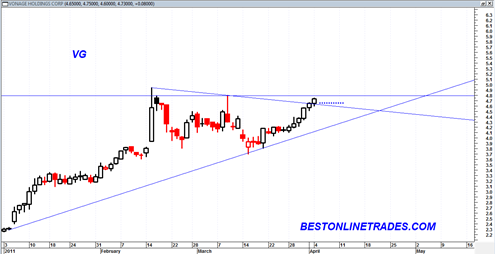 I am thinking VG has potential up to the 6 range assuming the general market cooperates and VG can maintain momentum.  That would equate to a possible 28% return.  So a downside of about 5% versus a possible upside of 28% looks quite good here.
VG is going to be the first trade of the BestOnlineTrades Mastermind Project.  The BMP is an experiment I want to start to try to identify weaknesses or strengths in trading and that I hope would be somewhat educational not only for me but for any one else who might stumble upon it.
I will be going into more detail what this is all about in a future post, but for now let it be known that VG is the first trade that becomes part of this 'project'.
At some point soon I am also going to be changing the way I update visitors to BestOnlineTrades.com.  Currently the only email notification system I am using is a feedburner end of day daily posting update.  This only occurs at the late end of day Eastern Time.  Instead I want to start using a regular email notification system.
In order to get on this email list you will have to subscribe to it with your personal or business email address.  Please be on the look out for this in the days ahead.  I will be writing a post about this new email list as well.