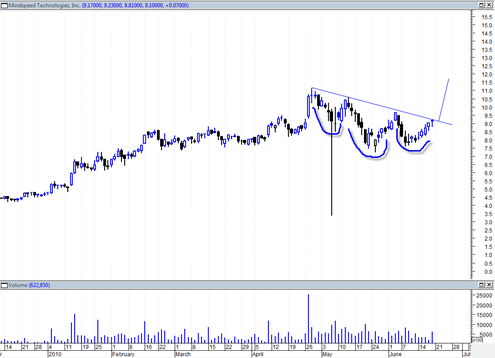 Mindspeed Technologies, Inc. MSPD came up in a Best Online Trades scan I did this weekend.  I have mentioned this metastock scan before in some posts a long time ago.  It is a scan I almost came up with by accident but it combines some basic yet powerful criteria (some from the great trader Jake Bernstein) and it seems time and time again to deliver to me a pretty consistent batch of stocks usually in the 'very ripe for picking' stage of their development.  I am sometimes astounded at what comes up in this scan.  It scans about 6000 stocks on the NYSE and Nasdaq and it usually only spits out maybe 10 to 20 stocks at most.
I probably should charge $50 a month or something and just focus on doing these scans every day and then dishing them out like a robot.  It gets back to the core principles of what Best Online Trades is all about… finding highly targeted setups that are profitable and offer the best risk/reward ratio.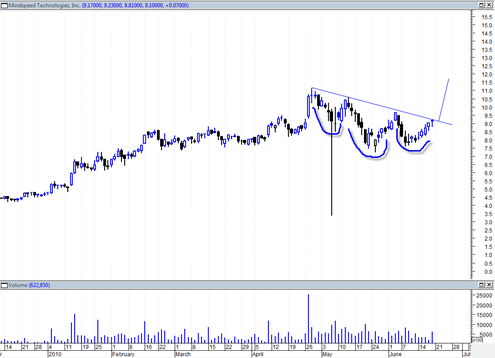 Mindspeed Technologies Inc could be forming a head and shoulders bottom formation.  The unusual factor is that I don't usually like to see head and shoulders bottoms form at major highs in any stock.  But lets see what happens here.  If MSPD can get above the neckline it could get a move going to 11 to 12 range.