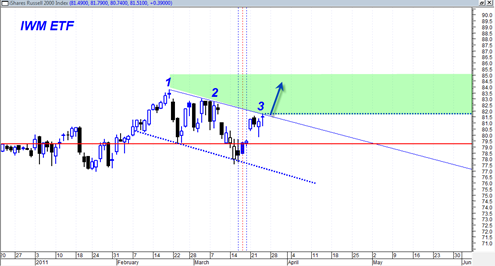 The mini bear we have seen in the market indices may be officially over by tomorrow near the open.  The IWM continues to trade right up to the recent down trend line that has defined this mini bear and is likely to bust above it tomorrow on the GDP report or even gap up above this resistance.  I pointed out in a previous post that the market would likely move into a stance where the GDP becomes the 'decider'.  This appears to be the case now.  Also, the inverse head and shoulders on the sp500 appears to be filling out in correct formation as well.
If the GDP tomorrow is a horrible number then everything I just wrote in the previous paragraph is likely to be incorrect.  But near term momentum and even the after hours action today seems to suggest otherwise.
If the IWM and the other market indices get a break north tomorrow and then continue to drift higher into end of March, they will have once again been able to evade the potentially very bearish quarterly shooting star candlestick.
If that occurs, it would once again speak to the almost astonishing (or manipulated by easy money?) ability of the market to evade bearish signals and turn them into bullish continuation moves.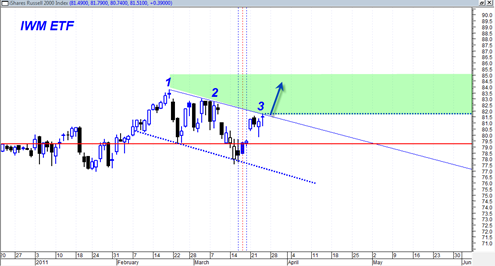 So tomorrow would be the third attempt of the IWM to bust north from the bearish trend resistance.  A lot of times I have seen successful attempts on the third try especially when the previous trend was strong momentum.