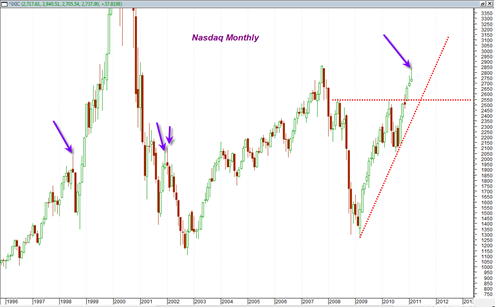 There are two trading days left in February and currently the nasdaq composite index is showing a very bearish looking monthly shooting star reversal that has formed after testing the old 2007 all time highs.  This is clearly a sign of supply coming into the market and suggests we will have more downside in March 2011.
It will be interesting to see how much upside the nasdaq can create during the next two trading days or the last two trading days of February 2011 because it will either create a near perfect monthly shooting star candlestick or something less than perfect.  Assuming we do get a reasonably 'good looking' monthly shooting star reversal candlestick, then we would need to see bearish confirmation ideally during March 2011.
I suspect that 2500 to 2550 is in store for the nasdaq in the weeks/ months ahead.  Interestingly, if we do initiate a 1 to 4 month decline from the current time frame it could lead to the market forming a low instead of a high into the mid June 2011 8.6 year Marty Armstrong Cycle Model Turning point.  It is still too early to get enough clarity on that, but I am open to mid June 2011 either being a low or a high.  If it is a low, then likely everyone will be very bearish mid June 2011 and it could turn out to be a huge buyable low.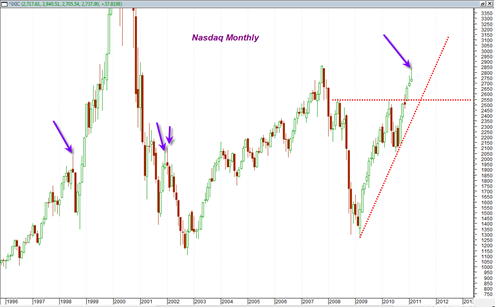 Note other previous monthly shooting star candlestick reversals in the nasdaq in 2001 and 1998.  The topping tail on the current shooting star is not as long as I would prefer but it may still have some bearish potency.
Note also that there were two long topping tail candlesticks in 2001 before the market was able to crumble down.  It is possible we might do the same this time around as we try to push up into the 2007 highs again but then again get rejected on the over hanging supply up there.
At this point I would say a move to 2500 to 2550 would be a quite normal type of market occurrence in that it would simply be a retest of the breakout area through the neckline (horizontal red dotted line).
A move to 2500 to 2550 in the nasdaq on a daily and weekly basis would probably be perceived as extremely bearish, but when we look at such price action within the context of the above monthly candlestick chart it paints a picture of normal market action (or a normal Wyckoff retest type action).
P.S. The daily action on the sp500 delivered the almost standard scripted hammer reversal today and seems to support a small upside bounce from here.  The sp500 is still holding channel support but I forgot to point out yesterday that the nasdaq broke down through its uptrend line since September 2010, an important bearish sign…