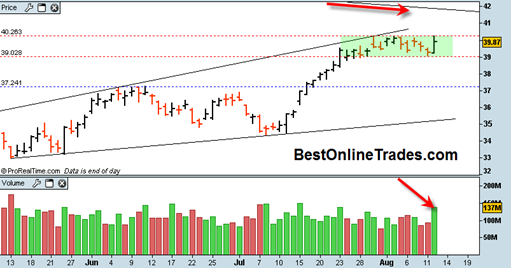 The move today in the QQQ was pretty impressive.  It was impressive in the sense that the bears should have been able to break under the green shaded rectangle and get the much awaited correction going, but the exact opposite ended up happening.  The upside volume was 137 million shares and is a solid way to get a bounce going inside that rectangle. 
This rectangle is depicting internal market strength once again to me and hinting at an eventual possible breakout above this rectangle to towards the 41.5 level which is right at the point of the long term bear market resistance line.  Perhaps we get a retracement the next could of days and then a breakout out of this rectangle next week sometime?
It is almost mind boggling that we are getting this strong price advance and this robust volume at this point in August.  It would seem that traders are in no mood to hit the beach this year.  They would rather be in front of their computer screens. Hmm.
I was open to the possibility that we could trade down to that blue dotted support line on the QQQ and the similar support line on the SP500.  That would be pretty normal market action as it would be a retracement back to the breakout area.  But so far it is not happening.
The first sign that it may happen is if we get a break under this green shaded rectangle.  But based on today's big upside reaction on robust volume it is looking not too likely.
Internal market strength continues in August! It is amazing to watch the strength of this bull these days…