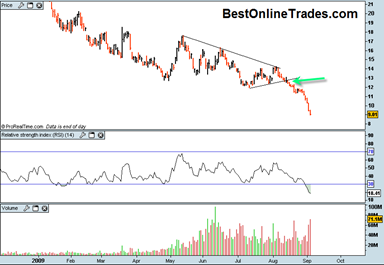 But is there a bottom to be had in Natural Gas yet?
I think it is too early still.  The UNG has shown no signs that it wants to get a reversal going.
However it is clear that with the relative strength index at 18.49 we may be near a possible turning point.  There is also a full moon tomorrow and I have seen many times big reversal occur right on full or new moon days.
A highly speculative short term turn around scenario would be if the UNG gaps down at the open or just simply plunges at the open 10 to 20% bringing the daily RSI value even lower to perhaps 15 and change.  Then after lunch a reversal begins and a full reversal price bar that closes slightly positive.  That could be a first sign that the UNG is ready to start some sort of near term turn around.
But even if it does that, I suspect it will not be able to get an upside run going until at least a small double bottom forms and RSI starts to base out and develop a stance that eventually enables it to cross above the 30 level.
I am not calling a bottom here, just saying that there may be a very short term intraday turnaround situation developing.
It appears that the long term trend channel in natural gas has been broken to the downside.  That break of the channel could be an outlier and a false move but it would be gambling to assume so.  Natural gas needs to get back inside this channel in a month or two to negate the effects of the downward break.