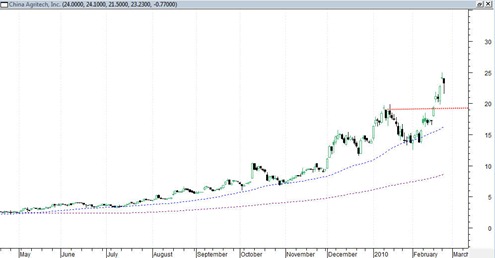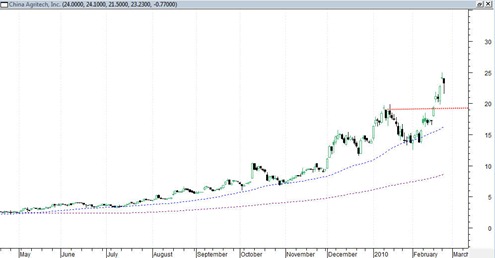 I want to change focus a little bit and instead of worrying about the indexes and bull or bear market all the time, instead try to focus on strong momentum stocks that are actually making some money.
CAGC seems to fit that category well.  They are making good money, have good margins and momentum at this juncture and are in an attractive business that has a very large and hungry market in perhaps the biggest economy in the world. China.  They sell organic fertilizer and are in the range of 400 million to 500 million market capitalization.
I am impressed with the very strong relative strength of this stock and my sense is that the run is not over and that this is a company that can participate with more good growth story coming out of China.
But how to find a good entry point on CAGC China Agritech Inc.  My entry should have been 12 and change after the recent decline that was concurrent with the world index weakness, but alas I missed it.  So the question now is where do I go long CAGC.  I certainly do not feel comfortable getting involved now given the recent huge run up, but I think a move to 19 would get me interested.
The last 5 days was a big sign of strength breakout on confirmed volume.  A very common occurrence is for a stock to pull back right to the breakout area after the initial breakout.  So 19 and change seems like an ideal location.  However that may take some patience, 1 to 3 weeks ?  Tough call on when that may occur.  If I am lucky, the broad market indices will get a new decline leg going and help to take CAGC down with it.
I believe next earnings date for CAGC is March 29th, however they have already given forward indications that their numbers will be good ahead of time.
So I am switching to wait and watch mode on CAGC but I feel that CAGC could potentially be a very large continuing trading opportunity in 2010 (both as a core position and tradable position) and I do not want to miss out.
Stay tuned as I track CAGC going forward trying to 'game' this stock and see the story unfold for the year 2010.