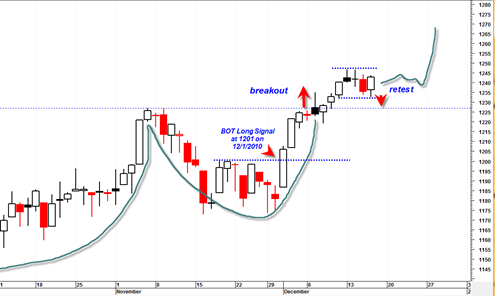 There is still no short signal according to my work.  We appear to be in a sideways market that is simply consolidating the upwards burst in price action that occurred in early December 2010.  This upwards burst in price action represented  the completion of the handle portion of the much larger cup and handle formation in my opinion.  Since breaking above the handle, the market is trying to figure out if it should sell off or go higher.  I suspect that sellers are being absorbed by new buyers but the buying conviction is lacking enough steam to push the market higher.  Still, I do not see any clear signs of weakness in the tape despite the appearance of lackluster action.
I mentioned in yesterday's post about how we need to close under 1227 to inject some more bearishness into the market and the bears could not even come close to doing that today.  This fact combined with the current sideways nature of the market tells me we are in no mood for any big sell off going into the last two weeks of the year.
The NYSE summation index is drifting around and seems to be suggesting that we could keep chopping around sideways for a bit longer and then likely maintain a bias higher.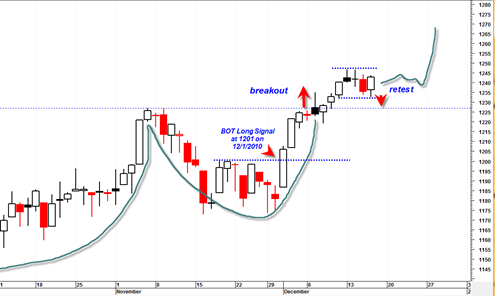 I was temped today to initiate a BOT short signal.  I was tempted yesterday as well, but I was able to resist that temptation and simply wait for some signal near the 1227 level which the bears cannot seem to manage to attack.
So its just another day at the office of the sp500… The trickle up continues…