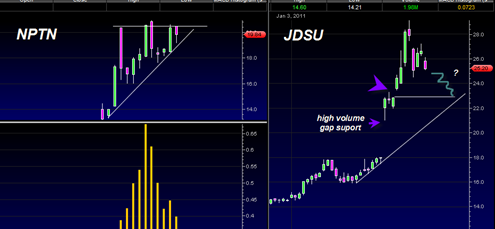 Both NPTN and JDSU look like good momentum trade candidates.  NPTN is an recent IPO that seems to be building an ascending triangle.  NeoPhotonics Corporation is a designer and manufacturer of photonic integrated circuit (PIC)-based modules and subsystems for bandwidth-intensive, high-speed communications networks.
JDS Uniphase Corporation (JDSU) is a provider of communications test and measurement solutions and optical products for telecommunications service providers, wireless operators, cable operators, and network equipment manufacturers.
JDSU recently had a huge upside gap on massive volume and since then has attempted to get a correction going.  NPTN seems to be following the fortune of JDSU recently.
The very high volume opening gap up on JDSU should be viewed as strong support.  I suspect that JDSU in the weeks ahead will not be able to make it all the way back down to this opening gap, but it is worth noting that important gap level.  I think JDSU needs to pull back a bit more and try to find up trendline support which could make it a buy candidate.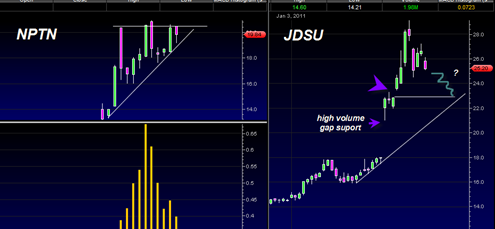 There is another gap on JDSU that may get filled sometime next week and could work this stock into some type of buy signal.  I do not know at this time whether or not JDSU can make it all the way back down to the up trendline shown in the chart above, but will be looking for an entry point in this stock.  I like to see huge massive volume surges in stocks even if they are in gap up form.  It shows that the stock has lots of commitment behind it and should evolve into an eventual new up trend after profits takers leave the stock.
NPTN may develop into a breakout of this ascending triangle sometime next week.  Obviously there is not much chart history on this stock and it has quite a low trading float so any entry at 20 or higher should be protected with a tight stop right under that level assuming the stock is able to breakout next week.
The momentum trade appears to be in full force on a good majority of stocks.  The sp500 continues to show that it is extremely overbought, but I do not see indications of a more involved turn until we see the NYSE summation index break under the 70 percentile line.