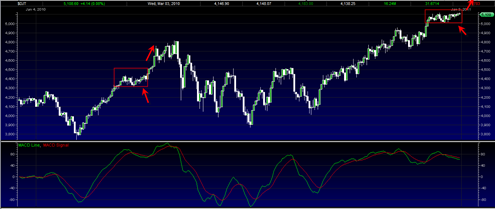 After looking at the NYSE summation index today I am starting to wonder how wise it is to start shorting this market next week.  The NYSE summation index is showing the 5 day moving average crossing above the 10 day moving average and we also see the Relative strength index of the summation index crossing through the 50 percentile line which is sometimes associated with more positive movement in stocks.
Of course the summation index can curl over down at any time, but as of today it is trending up again after long sideways action in a number of indices including the DJTA Dow Jones Transportation Average which I wrote about recently.
It will be interesting to see how the market closes on the last trading day of the year tomorrow.  If we close within inches of the yearly high it would seem to suggest a follow through up move next week.  On the other hand, a bout of heavy profit taking tomorrow could set the stage for some more downside follow through next week.
I have a more mixed opinion now about what might happen on the change of year.  If the summation index continues higher we could very well see another upside price breakout in the major indices including the DJTA which has been going sideways for weeks and has moved back to up trendline support.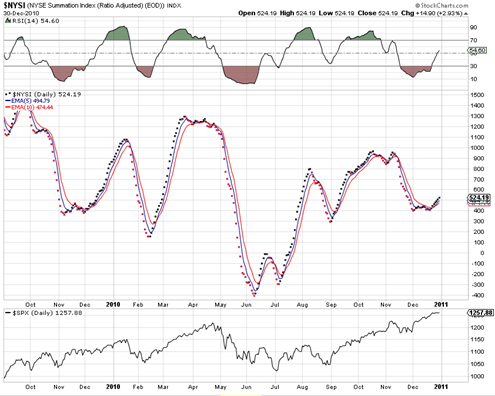 If one looks at the April 2010 period in the Transports one can see that there was a similar rectangle formation which eventually led to the April 2010 blowoff high and then the big correction.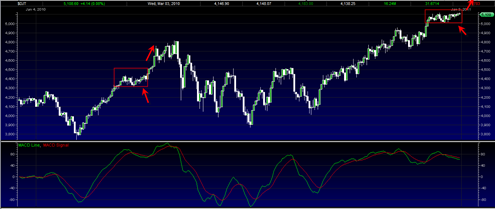 I don't know if the Transports are going to do the same as they did in March April 2010, but if they are then there could be a big 3 to 5 day upside blow off move next week.
In support of the potential bearish side the daily MACD is within inches of a bearish crossover.  This could be hinting that the last trading day of the year will be hard down with some downside follow through next week. There is also a bearish divergence between daily MACD and the recent price peaks in the sp500.
I may initiate a BOT short signal tomorrow morning if the environment looks ripe enough for it.  I prefer to wait until Monday or Tuesday of next week, but if the ingredients are there tomorrow then I will go for it.